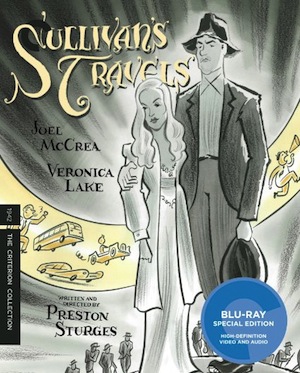 [Rating: Rock Fist Way Up]
In the classic 1941 comedy Sullivan's Travels, available now in a sterling new digital restoration on Blu-ray from The Criterion Collection, writer/director Preston Sturges stumps for the value of pure, unadulterated laughter in motion pictures.
In fact, in the opening titles, Sturges dedicates the film to "the motley mountebanks, the clowns, the buffoons, in all times and in all nations, whose efforts have lightened our burden a little."
But Sturges himself is too strong and multi-faceted a filmmaker to make just a straight-up slapstick comedy. (The least engaging funny business in Sullivan's Travels is one scene rife with physical comedy, as people on a speeding bus fall all over the place.) Instead, the movie road-trips from its scripter's typical cynicality to finding an assured kind of resonance in the third act in the most unlikely of places.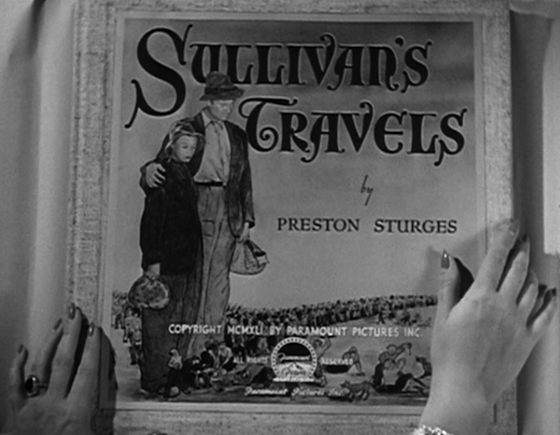 Sullivan's Travels opens with the quick-witted kind of repartee that Sturges was known for, as Hollywood phenom John L. Sullivan (Joel McCrea) — merely a director and not a double threat writer/director like Sturges — argues with his producers (Sturges regulars Porter Hall and Robert Warwick) about his desire to make a social justice picture about poverty and the human condition la The Grapes of Wrath. The delivery is so lively and fast that its possible to miss how cleverly Sturges lampoons both sides of the argument.
Criterion's accompanying booklets have always been full of great essays and illustrations, but Maurice Vellekoop's whimsical poster designs for the fictional films named in this scene give even more depth and humor to their titles: Ants in Your Plants of 1939, Hey-Hey in the Hayloft, and So Long, Sarong.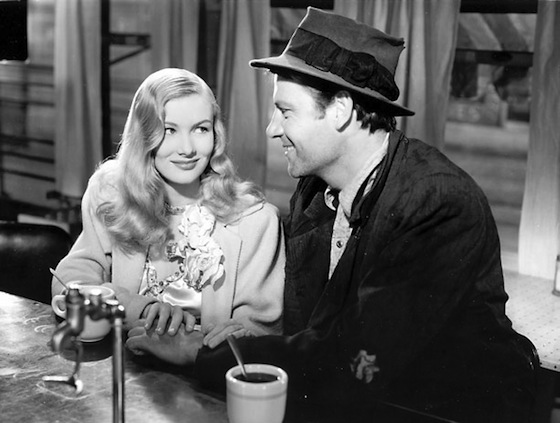 In order to truly understand the plight of the poor, Sullivan decides to hit the road with 10 cents in his pocket — a perfectly misguided idea. He meets a down-on-her-luck wannabe actress (Veronica Lake), credited only as "The Girl" in the credits, and can't resist helping her out, as his trip falls short of expectations and he ends up back in Hollywood just as quickly as he left.
Sturges pokes fun at the high-minded ideals of some of his contemporaries while striving for some of his own, which gives Sullivan's Travels the poignancy it needs to become a classic. A couple of scenes are pretty dated in terms of their social attitudes, but mostly Sturges is way ahead of his time with his cynical view of marriage and well-meaning "artistic" achievement. Sullivan begins the film as a bit of a blowhard, but McCrea plays the character with much earnestness and Sturges gives him the benefit of the doubt in all moments of crisis.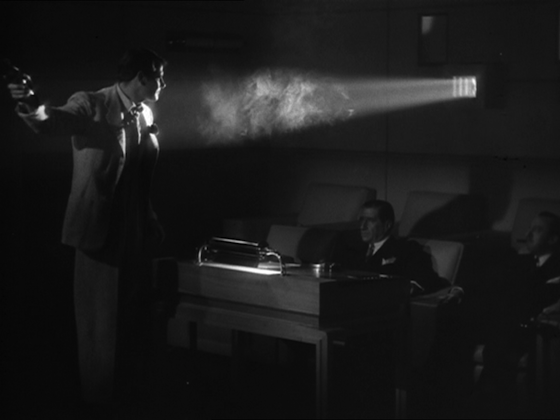 Sure, Sullivan is eventually let off the hook pretty easily because of his stature in Hollywood (the same reason he had trouble living an authentic hobo's life), but that just drives Sturges' point home further and it momentarily lifts the somber proceedings that preceded it in the remarkable third act, allowing the film to end on that patented Sturges lighthearted note.
This excellent Criterion Blu-ray is packed with extras as usual, such as the full-length 1990 PBS American Masters documentary Preston Sturges: The Rise and Fall of an American Dreamer, which is the perfect primer for the man's work and career. There's also an 18-minute video essay, a 2001 interview with Sturges' widow Sandy, three pieces of archival audio, and the audio commentary from the original Criterion 2001 DVD, featuring Noah Baumbach, Kenneth Bowser, Christopher Guest, and Michael McKean professing their love.
For more, read Trey's take on Sullivan's Travels from his 1 Year, 100 Movies column!