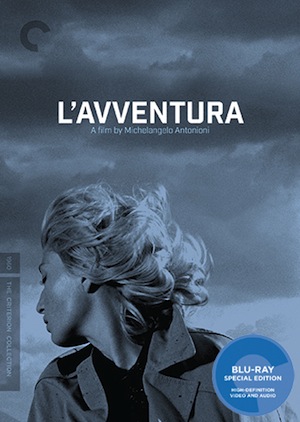 [Rating: Rock Fist Way Up]
Not long ago, I reviewed the Criterion Blu-ray re-issue of Michelangelo Antonioni's 1962 L'eclisse, which completes a thematic trilogy of movies that the enigmatic Italian director made at the beginning of the 1960s.
It isn't very often that one starts with the third film of three and then jumps backwards to the first one, but that's exactly what I did when I watched 1960's L'avventura this weekend, just released by Criterion on Blu-ray as well. (The middle film, 1961′s La notte, was also re-issued some months ago in the same format.)
Antonioni doesn't concern himself with presenting the same characters in these films, however, so there's nothing really to be lost from a plot standpoint. In fact, this trilogy of upper-class ennui could definitely be considered anti-plot in the first place.
L'avventura is the film that gave Antonioni a name. The film was booed at its first screening at the Cannes Film Festival, but at the second viewing of the film, it was greeted quite enthusiastically, and then finally awarded a Special Jury Prize for "the beauty of its images, and for seeking to create a new film language." That language is almost decidedly the visual interpretation of alienation.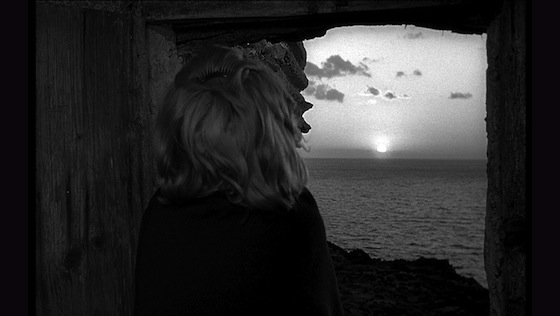 When a group of upper-class Italians take a jaunt in a yacht just off the coast to a small island, they are already suffering from inner rot. Anna (Lea Massari) almost doesn't go, but is spotted at the last second by her her fiance Sandro (Gabriele Ferzetti), and acquiesces. The couple go on the day trip with Anna's bestie Claudia (Monica Vitti, who stars in all three of Antonioni's films and was his muse and girlfriend at the time), and some other friends, who are immediately taking verbal jabs at each other.
Characters are turned away from each other and placed in the frame as opposing objects. There's no real emotional connection between any of them. They are their own islands, so to speak. Once on the island, Anna gets even more frustrated and behaves recklessly. She dives into the water while the boat is moving, screams "shark!" when there isn't one, and finally tells Sandro she wants to be alone. She means it, because before long, the young woman has disappeared.
There are certain things audiences have come to expect from the plots of motion pictures, and even in 2014, L'avventura feels angry and fresh because it upends those expectations gleefully. Being anti-plot doesn't necessarily mean that its plotless, of course. In fact, Antonioni takes this feeling of detachment and plays it out to a harrowing degree. Anna's father seems more concerned with justifying that his daughter is a good person and that se fits into his version of her more than he does with actually finding her.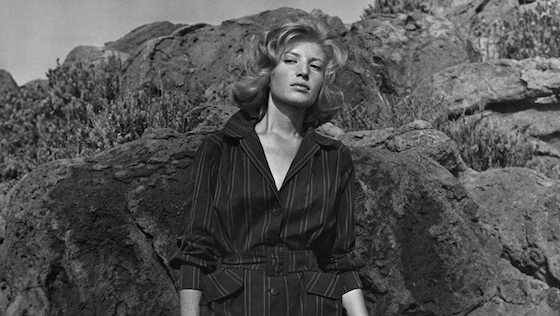 And then there's the kiss. It seems to come out of nowhere, but when L'avventura is taken as a whole in retrospect, I should have seen it coming. It's desperate. The characters who engage in it (I'm not sure why I'm avoiding spoilers here in a movie that's over 50 years old, so watch the clip below if you want to spoil it) are flailing. As the film moves to dry land, they are still drowning.
Admittedly, at 143 minutes, L'avventura feels a little long. Audiences had more patience in 1960, and Antonioni is building a mood, one which relies on lots of time for self-reflection and thought. The reward in watching it today comes from the fact that it still has the cinematic power to stun. I can see why, in 1960, it set off a firestorm, because it says some pretty devastating things about society. Lots of movies have come and gone since then that cover similar ground in the "existential nightmare" category (No Country for Old Men jumps to mind), but those are specific to their time and place, and this one captures a unique post-war, pre-hippie time with a kind of quiet ferocity.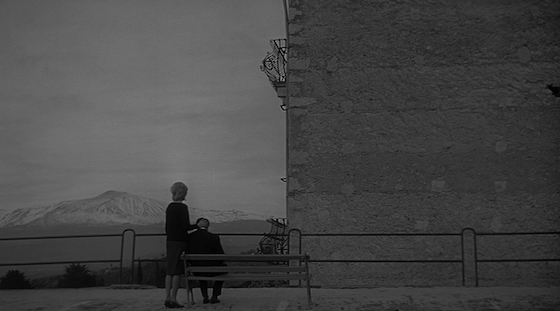 Criterion doesn't disappoint in the visual department either. The startling black-and-white cinematography of Aldo Scavarda is rendered beautifully in this 4K restoration, and there are numerous extra features to sink your teeth into that place the film culturally. I first went to a visual essay dissection of the film in three parts by director Olivier Assayas, which shows how timeless the film's themes are. An excellent audio commentary and essay by film historian Gene Youngblood are also included, as well as an hour-long documentary on Michelangelo Antonioni from 1966.
Writings by Antonioni, read by Jack Nicholson, with his personal recollections of the director, are also on the disc, which only made me want a Criterion Blu-ray edition of their underrated collaboration The Passenger, even more.
I don't think it's wrong at all to see Antonioni's career-defining trilogy out of its intended order I do feel, however, that this particular moment in film history needs to be seen by any self-respecting cinephile, so jump in wherever you can.