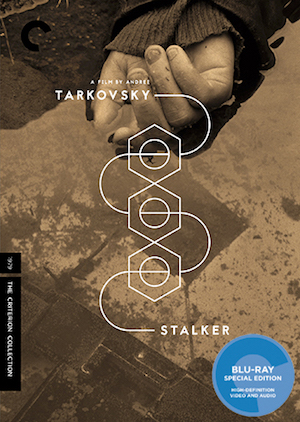 [Rating: Solid Rock Fist Up]

The opening shot of Andrei Tarkovsky's final Soviet feature Stalker, out in a new 2K restoration on Blu-ray now from The Criterion Collection, creeps so over slowly into a doorway of a working-class apartment. 150 minutes later, a similar shot goes out of the doorway, following maybe only the second piece of obvious visual evidence of otherworldly goings-on in a movie that's theoretically filled with them.
.
Let's be frank: Stalker, released originally in 1979, is a challenging piece of cinema. It's a lengthy, talky quest for meaning, punctuated by long takes and huge moments of silence. Ultimately though, it's a rewarding one for sure, especially once you fall under the spell of its hypnotic filmmaking.
Stalker is adapted from a science-fiction novel by Arkady and Boris Strugatsky, but unlike Tarkovsky's previous 1972 philosophical sci-fi work Solaris, this film is devoid of any typical science-fiction settings of trappings. It begins with (and has other long stretches of) sepia-toned black and white, while droning electronic music begins to put you in a trance. Stalker announces right away that you should abandon your idea of traditional filmic rhythms.
In some vague kind of dystopian future, a man known as the Stalker (Alexander Kaidanovsky) leads a writer (Anatoli Solonitsyn) and a professor (Nikolai Grinko) into a place few dare to venture. They want to travel to The Zone, presumably to find happiness. It's incredibly dangerous and although his wife and child don't want him to do it, he leads these two men on a journey that will challenge all three of them to examine their own long-held beliefs about the world around them.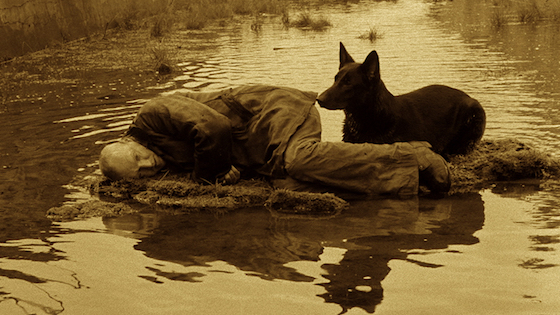 Tarkovsky employs lots of super-slow push-ins, slow dollys, and slow pans throughout Stalker. If you're 100 percent dialed in, it has a mesmerizing effect. During one particularly curious scene, cinematographer Alexander Knyazhinsky uses long-take close-ups on the men's faces as they ride a train car to the outskirts of civilization. You can barely see the background at the far edges of the frame but you can hear the railcar sound effects on the train tracks and the sounds of the cables gradually resonate with an electronic effect. 39 minutes in, there's a hard cut to full color: "Here we are, home at last."
The writer has aid from the outset that above all, he's concerned with the nature of authenticity in art. In one of several moments when a character peers directly into the camera and pierces the fourth wall, the writer laments the life of a creative person Those who pick at his work make it hard for him, and despite his outward confidence, he feels like nobody needs him. It's one of several times when it feels like Tarkovsky is speaking directly to us. The writer believes that mankind exists to make works of art; that is true unselfishness. He says that the professor's gadgets and tech only enable people to consume more.
As they travel deeper into The Zone in search of a Room which supposedly grants wishes to a lucky few, it becomes clear that the Stalker is a true believer. He genuinely thinks people can and must change; that they should be reflective. On the threshold of The Room, the Stalker says that when a man thinks of his past, he becomes kinder. To enter The Room and survive, you must think of your life.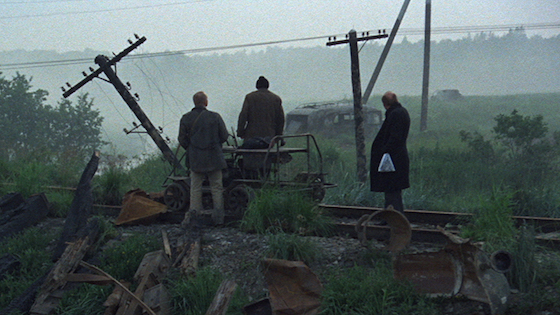 There is plenty of time and opportunity to think about one's life while viewing Stalker. As the title character says, being "soft and flexible" is the key — not just to the philosophers in the movie but to any audience's enjoyment of the movie itself. There are several passages like this that can stand in for the experience of the movie. Another one, as the Stalker talks about navigating the tricky way into The Room: "The straight path isn't the shortest."
Stalker is a slow, artsy suspense thriller with plenty of time for philosophical musings, and in that way it reminded me of a Blade Runner that's been stripped of its visionary set design and art direction. It is probably not a coincidence that Blade Runner, which came out a mere three years later, had similar questions about humanity and also moved at a distinctly measured pace for a science-fiction film.
The Zone is a very complex maze of traps – when humans appear, safe ways become impassable. Tarkovsky is saying this as well. He's warning us all about the dangers of being alive on this planet. To the Stalker's way of thinking, people who have lost hope — those without faith — can become hard and immovable. "The main thing is you must believe."
When his wife concludes that he is "one of God's fools, a marked man," she says it with no small amount of pride. She'd rather have bittersweet happiness than any other kind. To have happiness and hope, one also must accept sorrow. In this way, Stalker can be at once heavy-handed (Kaidanovsky actually recites poetry in addition to lecturing his traveling companions) and gentle.
For a Blu-ray in The Criterion Collection, the extra features are actually surprisingly sparse. A new interview with Geoff Dyer, author of Zona: A Book About a Film About a Journey to a Room is the key piece. he describes his initial non-plussed reaction to the movie the first time he saw it, and the way in which it gnawed on him, causing multiple viewings and a growing appreciation. Also included are interviews from 2002 with cinematographer Alexander Knyazhinsky, set designer Rashit Safiullin, and composer Eduard Artemyev.