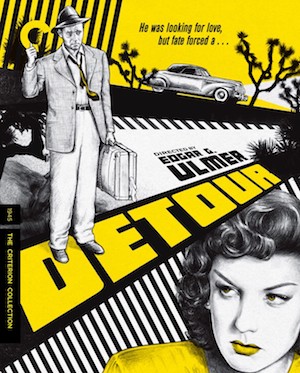 [Rating: Solid Rock Fist Up]

The 1945 Poverty Row cult classic Detour was one of the first film noirs I noticed on the home-video marketplace.
And it may have had something to do with its reputation as a minor masterpiece of the genre, but it was also because the movie had fallen into the public domain, and anyone with access to a manufacturing plant could take whatever shitty video transfer of the movie they could find and put it on a DVD. I remember trying to watch one such DVD and shutting the movie off almost as soon as it began because the picture and sound were such poor quality.
Thankfully, The Criterion Collection is here to rescue Edgar G. Ulmer's little miracle of a film from forever being relegated to the bargain bin. With it's new Blu-ray, sporting a brand-new 2018 4K restoration (released theatrically by Janus Films), Criterion finally gives Detour the respect it deserves. There's long been a case for the idea that great art can be found in the margins, and Detour is a perfect example of this.
Ulmer didn't think much of the overly long shooting script, adapted from his own book by author Martin Goldsmith. To save money, Ulmer excised big chunks of it, trimming the fat of the story to concentrate on one fateful episode in the life of a down-and-out pianist (Tom Neal as Al Roberts) chasing the love of his life from New York to L.A., the bad luck that followed him, and the conniving dame (Ann Savage as Vera) that got in the way. Auteur theory has it that this streamlined approach to the story also caused Ulmer to think about the different ways he could project his own feelings of being a talented artist screwed by an uncaring system and bring an enormous amount of impressionistic creativity and (what are now considered) infamous noir tropes into the project without spending more money.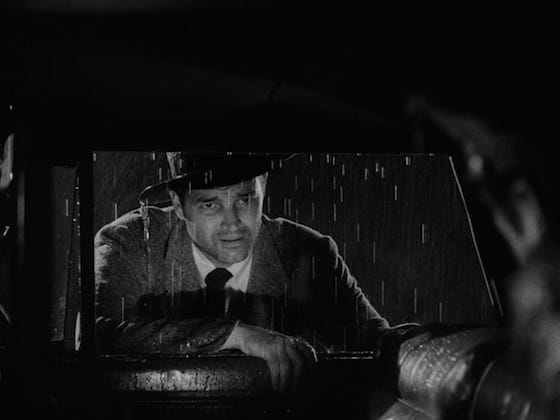 Depending on who you believe, Detour was shot in anywhere from a week to 14 whole days. Ulmer was used to churning out low-budget films in no time for Producers Releasing Corporation (PRC). There's a ton of rear projection scenes done in the studio, stock footage to replace what would normally be expensive location shooting, and a very active fog machine to cover up the lack of a street set. Even within these budget constraints, however, there's a lot of artfully framed shots and lighting techniques that embed us in Roberts' tortured soul and reflect his state of mind.
The script is essentially this: Roberts, stranded in a Nevada diner, flashes back to the unlikely chain of unfortunate events that brought him there, narrating his story along the way. By the end of the movie, he becomes one of the most unreliable narrators the screen has ever seen, reflecting the difference between what we actually see and what he describes in early moments with the supposed "love of his life" Sue Harvey played by Claudia Drake. They don't look at all to be as in love as he suggests, which echoes an ironic double plot of earlier script drafts. And then in the last, now-infamous moments of the film, Roberts becomes a projection of his own most pessimistic tendencies. Or does he? I mean, as he's telling the fatalistic story about where he's probably headed, we see it actually happen in front of our eyes!
Tom Neal (an amateur boxer-turned actor who murdered his wife in 1965 during a fight with a gun and spent a decade in jail for it) is effective, even if he doesn't show a lot of range. Benjamin H. Kline's moody cinematography and Ulmer's abilty to keep the tale focused on Roberts' experiences are as much a boon to the performance as the actor himself. But special notice must be given to Ann Savage as Vera, who may just be the most outright vicious femme fatale of the classic film noir era. Her wit is biting, she's up front about her vindictiveness, and just doesn't even pretend. In short, she's just the kind of shot in the arm the movie needs. Vera is also responsible for one of the 100 most famous lines in the history of the movies, according to AFI, as she taunts Al with "Stop makin' noises like a husband."
The most significant bonus feature on the Criterion Blu-ray is Edgar G. Ulmer: The Man Off-Screen, a 2004 documentary featuring interviews with actor Ann Savage and filmmakers Roger Corman, Joe Dante, and Wim Wenders In addition, there's a short featurette that intercuts scenes fro the film with an interview with film scholar Noah Isenberg, author of Edgar G. Ulmer: A Filmmaker at the Margins.