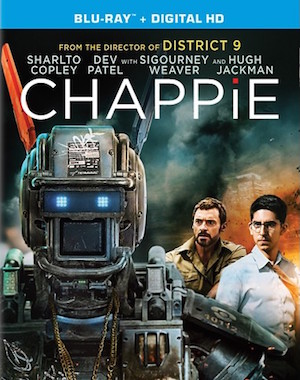 [Rating: Minor Rock Fist Up]
"Anything you do should come from an instinct, from a place of passion. It shouldn't come from an intellectualized place," says director/co-writer Neill Blomkamp in one of many featurettes on the new Blu-ray for his latest sci-fi cautionary tale Chappie.
That explains a lot, actually.
There is something about this messy mashup of Robocop, Frankenstein, Short Circuit, A.I.: Artificial Intelligence, and trashed-up wannabe gangster "zef" culture that just works man, against all odds. Even when it doesn't. Which is often.
On one hand, there is kiddie-level humor, but on the other, gory R-rated violence. When Chappie (voiced by Blomkamp regular Sharlto Copley), a robot policeman with a soul falls in with Ninja and Yolandi from South African rap group Die Antwoord (playing criminal versions of themselves, I suppose), they teach him completely opposing ideas. Daddy tells him that when he chucks throwing stars at humans, they don't die, they just go to sleep. Mommy reads him storybooks about being a black sheep.
If this sounds ridiculous, that's because it is. Later, Chappie downloads all relevant information on the Internet (just like recent films Her and Avengers: Age of Ultron) in order to find a way to move human consciousness from one machine to the next, but in the middle of all that enormous knowledge gathering doesn't learn that throwing stars don't put people to sleep. Silly, sure, but here's the rub: Chappie the A.I. robot is fallible, just like humans. He believes people when they are lying and he makes bad decisions that go against all his programming — just like people who make the same mistake twice.
"But he said he was sorry! He said he'd never do it again!" Famous last words for sure, but ones that Chappie understands.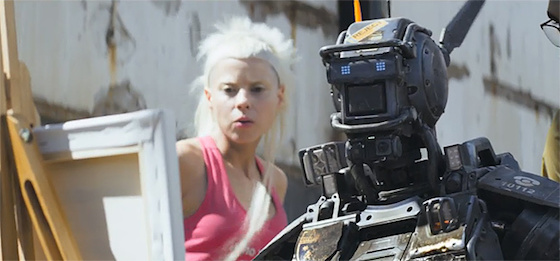 Hugh Jackman and Sigourney Weaver are wasted in expositional roles, while Dev Patel's brilliant scientist character never really wrestles with the moral dilemmas at hand, but in between all the seamless special effects and action scenes is the misguided, beating heart of a movie that is both confounding and invigorating at the same time.
The Chappie Blu-ray, out June 16, contains a bunch of behind-the-scenes featurettes, an alternate ending, and one unintentionally hilarious extended scene where Chappie snaps Hugh Jackman's leg in half over a desk. Which is awesome.