Two independent movies from last year are new out on Blu-ray and DVD and each approach the idea of dedication in a completely different way.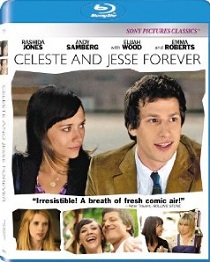 Celeste and Jesse Forever (2012)
Co-written by and starring Parks and Recreation star Rashida Jones, Celeste and Jesse Forever is a romantic comedy that starts out with the premise that most romcoms ends with — and works backwards from there.
Jones and Andy Samberg are a separated couple who still appear to be very much in love. At the least, they are certainly best friends. They still hang out all the time, they laugh at all kinds of inside jokes, and they have a genuine fondness for each other — possibly only the kind that comes with being married for five years.
Gradually its revealed that one of them is more okay with this setup than the other, and Celeste and Jesse Forever spends the rest of its running time turning the tables on the one who has the power in this relationship. Dedication may be something that works great for friendship, but it's ultimately responsibilities that define marriage.
Jones and co-screenwriter Will McCormack, who also appears as Samberg's friend, have crafted a clever script with some unexpected twists and its refreshing to see something that takes chances. As much chemistry as Samberg and Jones have, though, its still difficult to accept some of the dumb decisions their characters make in order to make the plot work.
That chemistry is also evident in the lighthearted Samberg-Jones audio commentary. There's another commentary that focus more on the script and production from Jones, McCormack, and director Lee Toland Krieger. There's also three minutes of deleted scenes, a 14-minute Making Of, a 14-minute, Q&A at the LA Film Fest, and 3 minutes of deleted scenes.
A Late Quartet (2012)
Even though it profiles one very specific artistic subculture, A Late Quartet, also out this week on Blu-ray and DVD, celebrates all of the unique qualities that make creative collaboration such an exciting thing. In this case, the complicated personal relationships of a storied New York City-based classical string quartet explode when one of its members receives some life-changing news.
Reflective performances from Philip Seymour Hoffman, Christopher Walken, Catherine Keener, and Mark Ivanir help the movie explore what it truly means to dedicate yourself to artistic excellence.
The most fascinating part of this downbeat drama is looking at all the sacrifices that each member of the quartet has made to reach the zenith of their craft. Of course, these decisions don't come without consequences, and it only takes one disruption for the carefully structured framework to come crashing down.
There may be some overly melodramatic notes hit along the way, but the sober and thoughtful performances from its four lead actors keep A Late Quartet from getting too out of hand.
The only extra on the disc is the featurette "Discord and Harmony Creating A Late Quartet."