This review originally appeared in shorter form on KSNT-NBC, KTKA-ABC, and KTMJ-FOX, Kansas First News.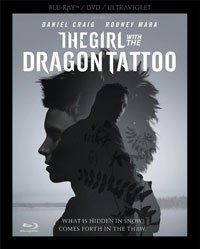 Two big awards-season movies from last year are out on home video this week. Eric Melin gives his take on The Girl With the Dragon Tattoo and Carnage.
The Girl With the Dragon Tattoo (2011)
The Oscar-winning English-language adaptation of The Girl With the Dragon Tattoo is dark and uncompromising like its lead character, the cyberpunk computer hacker played by Rooney Mara. As her disgraced journalist employer, Daniel Craig is way more rumpled than James Bond and the two form a strange friendship that's the heart of the movie.
The mystery turns a bit too familiar towards the end, but the atmospheric direction and deft character development make it a compelling movie. The Blu-ray/DVD package is chock full of bonus content from director David Fincher, including over 30 featurettes and an engaging director's commentary track.
Read my original theatrical review of The Girl With the Dragon Tattoo.
Carnage (2011)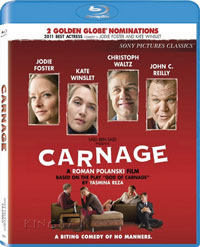 Carnage is a witty comedy about adults who act like children. The movie is adapted from a Tony-award-winning stage play God of Carnage, written by Yasmina Reza, and that's pretty obvious since it all takes place in one New York loft, but Kate Winslet, Jodie Foster, Christoph Waltz, and John C. Reilly turn in very funny performances that keep the film alive.
Carnage is only 80 minutes long, and sometimes it feels like a lark, but it manages to unearth some hard-to-swallow truths about modern life and be laugh-out-loud funny several times.
Director Roman Polanski keeps things moving at a quick pace, so Carnage rises above its inherent cinematic limitations.It's just too bad there isn't more bonus content  on the Blu-ray and DVD.
Read my original theatrical review of Carnage.