This review originally appeared in shorter form on KSNT-NBC, KTKA-ABC, and KTMJ-FOX, Kansas First News.
Carlos (2010)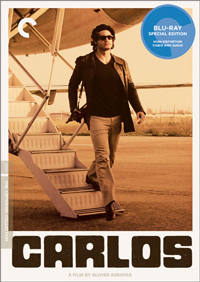 Last year, the movie and TV awards were justifiably piled high for Carlos, released in the U.S.in a 2-hour, 20-minute movie and overseas as a five-and-a-half-hour miniseries. The miniseries, broken up into three segments, is collected in its uncut, director-approved form on the newest extras-packed Blu-ray from The Criterion Collection.
This powerful thriller spans three decades and traces the life of notorious terrorist Carlos the Jackal, played magnetically by Édgar Ramírez. Carlos is a sprawling, complicated biopic that presents Carlos as very involved in the backroom goings-on of several governments during the tumultuous 1970s and 80s.
What's fascinating is that it depicts its main character seemingly without overt editorial comment, which is saying a lot for somebody who killed innocent people. The style of the film is very much in the tradition of verite filmmaking, as if the camera were just capturing these moments in time and we are just flies on the wall.
However, it does present several sexually charged scenes and the mere inclusion of these suggest that director Olivier Assayas is tying these animal urges to the violence that surrounds the main character. As Carlos himself repeats throughout  that he is the one manipulating his ever-shifting benefactors, it slowly comes to pass that he may be kidding himself.
The movie/miniseries also has a keen eye for period detail—especially for an $18 million-dollar picture.
Two documentaries are included in the package that shed more light on the real terrorist, and video interviews from Assayas, Ramírez, and cinematographer Denis Lenoir go into greater detail about the film and how it was shot.
Carlos is a smart piece of filmmaking that delivers thrilling sequences and doesn't pander—grounding its idealistic character in a sea of contradictions.
The Guns of Navarone (1961)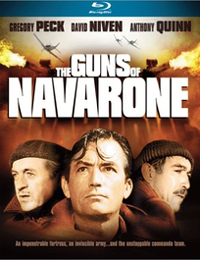 The Guns of Navarone, also out on Blu-ray, is an old-school Hollywood war movie with a little more on its mind than most.
Gregory Peck, David Niven, and Anthony Quinn star in this 1961 picture about a multi-national team that undertakes an impossible mission to take out a pair of giant Nazi war cannons and secure a safe Allied rescue mission.
It starts off pretty stodgy, complete with a narrator filling us in on the history and grounding the tale as analogous to a Greek myth, but it improves from there. For its time, many of the perilous situations of its characters must have felt pretty realistic.
The movie holds up pretty well as a rousing action picture, and also throws in a couple of comments about the contradictions of war. Some of these take the form of awkward lines placed uncomfortably in the mouths of actors, while others can be derived from the relationships between the different groupings of characters.
Plenty of commentaries and documentaries give an interesting historical context to the film's place in the world of war pictures and Hollywood epics, rounding out this impressive Blu-ray set.