[Rating for both: Rock Fist Way Up]
Frank Capra is one of classic cinema's most famous directors. His movies from the 1930s and 40s epitomized American ideals and attitudes like few other. Ironically, the film he is now perhaps most known for, 1946's It's a Wonderful Life, was his last major work. Two of his best pre-World War II movies are newly available on Blu-ray. Each of them are hugely influential and have become templates for their genres. Even better, they also hold up extraordinarily well today.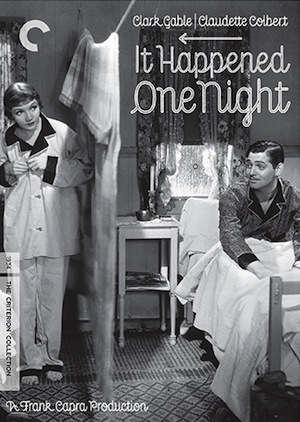 It Happened One Night (1934)
There is an extra feature on the new Criterion Collection Blu-ray of Capra's It Happened One Night that has writers/critics Molly Haskell and Phillip Lopate discussing whether the movie, considered by many to be the first screwball comedy, even truly belongs in that genre at all. It may not reach the manic heights of its later counterparts, such as Bringing Up Baby or His Girl Friday, but  It Happened One Night is overflowing with the most important thing any screwball comedy must have: charm.
Clark Gable (the down-on-his-luck reporter) and Claudette Colbert (the spoiled heiress) generate so many sparks onscreen without ever consummating their relationship that it's kind of embarrassing to most modern romantic comedies, especially since they all ripped off so much from It Happened One Night. Viewed even today with all of its plot elements recycled ad nauseam by Hollywood (not just for rom-coms, but also road trip comedies, odd couple/buddy films, etc.), the film still holds up because we believe Gable and Colbert and can identify with them both right away.
Much of the film's success can be credited the uber-witty script from Robert Riskin (from a short story by Samuel Hopkins). Capra's editing and pacing isn't nearly as fast as some of the screwball comedies to come, but Gable and Colbert deliver Riskin's smart, character-driven dialogue in that inimitable style and their chemistry is off the charts. It's no wonder that both actors scored Oscars, as well as Best Picture, Director and Screenplay.
This latest restoration, created in 4K resolution from a 35mm composite print, looks great on Blu-ray. There are a few rough patches, but that's to be expected. I saw an older version of the film about 2 years ago in a theater, and this transfer is even better than that one. Besides the excellent 40-minute discussion with Haskell and Lopate, there's a 12-minute interview with Frank Capra Jr., 60 minutes of Capra's 1982 AFI Lifetime Achievement ceremony, and Capra's 1921 film debut, a silent short called Fultah Fisher's Boarding House. As if that wasn't enough for Capra fans, the 1997 96-minute documentary Frank Capra's American Dream is also included.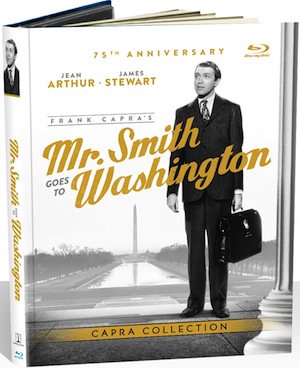 Mr. Smith Goes to Washington (1939)
It's an interesting double feature to watch these two Capra features back to back because it makes clear a tremendous amount of growth for Capra in terms of framing and editing. In Mr. Smith Goes to Washington, released tomorrow on Blu-ray in a handsome 75th Anniversary digibook, Capra doesn't have a script that crackles like It Happened One Night. What he does have is James Stewart in the everyman role that would launch his career, with ample backup from Jean Arthur, who received top billing here.
Like his very successful Mr. Deeds Goes to Town starring Gary Cooper from 3 years before, Mr. Smith Goes to Washington is about a small-town man who gets a rude awakening in the big city. Stewart plays a junior senator chosen for his naiveté by the powers that be to replace a member who recently died. When he gets to Washington, he finds that corruption is the name of the game and delivers a rousing filibuster to expose the truth and stay in office.
Despite the fact that its set in Washington, Mr. Smith Goes to Washington isn't a political film at all. In fact, it draws its power from its simple underdog story and its modern resonance from the fact that little has changed since then. As an example of Capra's terrific pacing and editing work, look no further than the last 30 minutes, where cross-cutting and multiple storylines enrich Stewart's impassioned speech. The film may be idealistic, but it's not cheesy, and boy does it ever hold up. The transfer, also done in 4K, looks gorgeous.
Frank Capra's American Dream, the same 1997 doc that appears on the Criterion Blu-ray, also appears here, as well as a full-length feature commentary from Frank Capra Jr. There also five featurettes and a rare international trailer which includes footage deleted from the final film.