Spanish surrealist filmmaker Luis Buñuel opens his 1967 classic Belle de Jour, out now on DVD and Blu-ray from The Criterion Collection, with a flogging.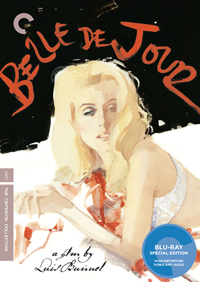 Newlywed Parisian housewife Séverine Serizy (Catherine Deneuve) is taken on a carriage ride with her husband, a wealthy surgeon (Jean Sorel).  Seemingly, they have it all. But when she pulls away from his embrace, he stops the carriage and the men driving it drag her out of the cab. She is bound, gagged, and whipped. Her husband then orders a coachman to have his way with her. For a brief moment before Buñuel cuts away, Séverine looks like she's enjoying it.
Cut to Séverine and her husband in separate beds.
And so the tone is set for a film that will explore the chasm between one woman's masochistic sexual fantasies and the prim and proper life that she knows she must uphold. Luis Buñuel gives us a snapshot of some sexual abuse in her past, but like her fantasies, its presented as one more part of a bigger puzzle, not the single key to her depraved desires.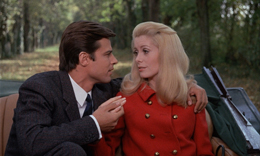 Two key elements in Belle de Jour contribute to the its unique illusory quality. Catherine Deneuve seems to float from scene to scene, as if she's flying above the world she inhabits, casually looking down on it. Her detachment is mesmerizing. In Belle de Jour, Catherine Deneuve has been called a cold, porcelain princess, and there isn't really a better way to put it.
Beyond her untouchable beauty, though, there is something else about her portrayal of Séverine. She only truly warms up only in reaction to sexual mores that are beyond the scope of "normal" life. When she first enters the brothel, Madame Anaïs (Geneviève Page) moves forward to give her a kiss, and like she does with her husband, she recoils. The second time this happens there is genuine interest.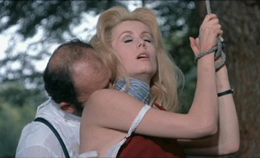 We glimpse portions of the "real" Séverine when she is with the brash young gangster (Pierre Clémenti) who really brings out her masochistic tendencies. This leather-coated thug has a walking stick that conceals a blade and gold teeth to boot, and treats her accordingly.
The other element that keeps us on our toes in Belle de Jour comes from Luis Buñuel's refusal to spell out what is real and what is not. Must this be so clear to us when the fantasy life of Séverine means so much to her?
Besides the surreal episodes that are obvious dreams, there are moments of curiosity sprinkled throughout Belle de Jour that aren't spelled out so clearly. We are intrigued by a lacquered box from a large, burly Asian client that buzzes when it is opened, especially after it scares off two of Séverine's new co-workers but gives her tingles, sending her straight to the man's bedroom.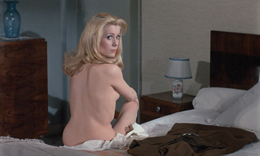 The final scene, like Séverine herself, wants to have it both ways. Without revealing to much, let's just say that it allows for multiple interpretations. The film is shown from the perspective of  Séverine, though, so it is a perfect window into her world.
Has her rich fantasy life, recently realized in the flesh,  now finally been exposed to her husband? Or has she been able to enjoy these carnal pleasures anywhere but her dreams? Luis Buñuel has given us, after all, the same fetishistic opportunities Séverine has had as we glimpse Catherine Deneuve acting them out.
As usual, Criterion impresses with a full slate of extra features.
The audio commentary is from Michael Wood, author of the BFI Film Classics book Belle de Jour. There is also a fascinating new video piece featuring writer and sexual-politics activist Susie Bright and film scholar Linda Williams exploring the psychology of the film. A new interview with screenwriter Jean-Claude Carrière and a segment from the French television program Cinéma, featuring interviews with Carrière and Catherine Deneuve is also included.