One of the best and most overlooked films of 2017 arrives in a handsome package featuring both the 4K UHD and Blu-ray, as well as an illuminating cast Q&A and behind-the-scenes featurette.
The typical Vince Vaughn smart-ass comic persona disarms adversaries by spewing wisecracks at the speed of light. With his role in the new grindhouse-style action drama Brawl in Cell Block 99, however, Vaughn plays a hulking badass who takes people out not with his wit, but with his bare hands. It's a startling reinvention for Vaughn, and one he convincingly explores while drawing on his acting experience to define the film's masterful mix of shocking violence and affecting drama.
We meet Bradley Thomas, Vaughn's bald, tattooed, character, as a recovering alcoholic, ex-drug dealer, and man of few words who is laid off from his job at an auto shop. On that same day, his wife (played by Jennifer Carpenter) admits to cheating on him. Naturally, Thomas channels his primal rage in the way he knows best, by calmly sending his wife into the bedroom – and out of harm's way – while destroying her car with his bare hands. It's the first of many moments that mixes ferocity with a darkly funny sense of humor, and it's a stunner.
It's one of several, one-take, combat scenes. And in these, you can see the influence of writer/director S. Craig Zahler (Bone Tomahawk) who likes to do things old school. That means placing Vaughn front and center in Brawl in Cell Block 99's brutal, elaborately choreographed fight scenes. Practical and in-camera effects give the fights a visceral realism, while hellishly violent long takes in hallways give us the distinct impression that Vaughn's convict is navigating something like the levels of Dante's Inferno.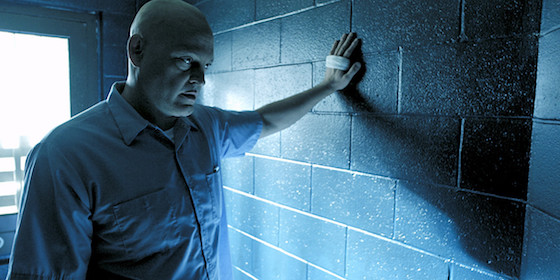 As much action as there is, this savage beast of a film doesn't sacrifice moments of strong character development either. It uses its lengthy two hours and 12 minutes to slowly build up an empathy for Vaughn's convict who returns to running drugs and ends up in prison, only to become trapped in another scheme. And when it's revealed that the only way for Thomas to get out of prison is to cause enough trouble (i.e. bone-crushing barbarism) to get put in a new cell block, the plot contrivance somehow rings true in context. Zahler takes his time with Thomas and Vaughn imbues the character with a believable moral code amidst all the craziness.
Oh, and did I mention Udo Kier and Don Johnson are in it?
Brawl in Cell Block 99 pushes the prison movie genre to new heights. The fact that there's a very small amount of an original score and a large amount of suspense speaks to Zahler's skill at building and sustaining anxiety.
The 4K UHD and Blu-ray includes a 15-minute featurette called Journey to the Brawl, that features Zahler and the cast and crew talking about all the elements of the film, including the stunt work, that make it special. Also included is a really informative half-hour Q&A from Beyond Fest, unedited and uncensored.
This Cell Block is one to remember.
This review is part of Eric Melin's "LM Screen" column that appears in the winter 2017 edition of Lawrence Magazine.