Blu-ray Review of new Criterion Collection Disc from Seijun Suzuki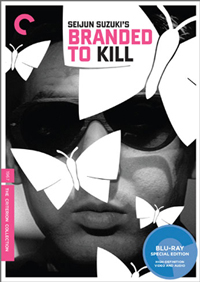 Read the companion review of Seijun Suzuki's Tokyo Drifter here.
Branded to Kill (1967)
If 1966's Tokyo Drifter strained things with Japanese movie studio Nikkatsu for director Seijun Suzuki, then the angular crime film deconstruction Branded to Kill got him fired outright. From the accompanying Tony Rayns essay in the booklet of the Criterion Blu-ray reissue:
"Nikkatsu's president, Hori Kyusaku, hated the film, withdrew it from distribution as soon as the initial play dates were over, and ordered his production staff to stop assigning projects to Suzuki."
Both films have an overabundance of style and way less of a focus on plot, but their styles couldn't be farther from each other. Branded to Kill is a hard-edged black-and-white movie shot with camera angles that were unsettling, whereas Tokyo Drifter is a colorful pop candy concoction.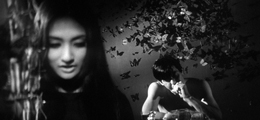 Story-wise, they both revolved around gangsters and their women, at least you could kind of follow Tokyo Drifter. Branded to Kill plays as if all the exposition and character motivation scenes have been left on the cutting room floor accidentally.
The scripts for these kind of B-grade hard-boiled crime moves, after all, were all pretty similar, right? So Seijun Suzuki was bored telling the same story the same way and just decided not to shoot anything that wasn't interesting to him. Good for him, great for us.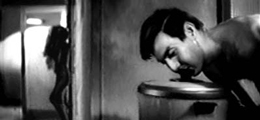 Puffy-cheeked Joe Shishido (who actually had cheek augmentation surgery in 1957 to improve his looks) plays Hanada, the third-best yakuza hitman in Japan — a guy who is singularly obsessed with being number one.
(That and freshly bolied rice, which he sniffs constantly throughout the movie to get turned on. We find out in the Blu-ray's accompanying interviews with Suzuki and assistant director Masami Kuzuu that his rice-sniffing fetish was concocted merely out of a need for product placement of the rice cooker!)
When Hanada meets Misako (Anne Mari), a mysterious woman with her own obsessions (death, dead birds, and butterflies apparently), his already fragmented mind splits further and he botches a job. The movie works on some psychosexual dream-logic level as it alternates between crazed scenes with his wife at their apartment, a brief montage of absurdly designed hits (one has him escaping by floating away on top of a balloon), and impressionistic moments with Misako's inner torture.
On the run from his bosses and the current "number-one," Hanada finally gets a linear narrative towards the end, which leads to a showdown between the two killers. Only it's not the climax you think the movie might be building to. Hanada's need to be ranked first  is as hollow as his other desires and he is left an empty shell of a man.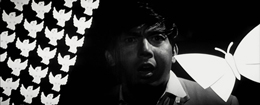 I wouldn't necessarily call Branded to Kill am inherently dramatic film because it isn't constructed like an efficient, well-told story. But because its so free of the conventions of other crime thrillers, that in and of itself is thrilling. The disorienting camera angles and jumps in time are all part of the atmosphere.
Even when there is a gun battle, Seijun Suzuki isn't concerned with placing his characters in a real space so the viewer can understand the flow of action and suspense. He'd rather create a cacophony of sound and image that gets across the confusion of the situation.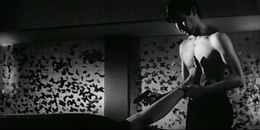 As much as I enjoy the pop-art aesthetic of Tokyo Drifter, the absurdity of Branded to Kill adds up to more. To watch the movie is to be enveloped by it and become trapped in its dream-like genius.
Also included in the Blu-ray package are  new interviews with director Seijun Suzuki and assistant director Masami Kuzuu, an interview with Suzuki from 1997, the Branded to Kill trailer, and a booklet featuring an excellent essay by film critic and historian Tony Rayns.