Here's a look at two new and very different movies starring older actors that are out on Blu-ray today: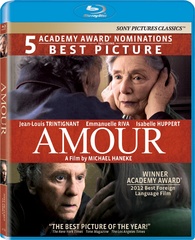 Amour (2012)
The best picture and certainly the most raw, honest, and devastating film of last year is Michael Haneke's Amour, released today in a crisp, hi-def Blu-ray that amplifies the formal design of one apartment building in Paris.
Legendary French actors Jean-Louis Trintignant and Emmanuelle Riva (Oscar nominated for Best Actress) play an elderly upperclass couple, long married and very much in love, who go through the worst kind of emotional trauma: the long slow deterioration of a person's mind and health. It deservedly won the Best Foreign Language Film at the 2013 Academy Awards.
Amour is a love story, but its really about that horrifying feeling of helplessness that comes with watching a loved one lose their dignity and personality right before your eyes. Haneke removes all showiness in both the acting and presentation, leaving only a stark, terrifying reality. The lack of sentimentalization in Amour is discussed often in The Making of Amour, a solid 26-minute featurette with subtitles and interviews with Jean-Louis Trintignant, Emmanuelle Riva, Isabelle Huppert (who plays the couple's daughter), and Michael Haneke.
The most remarkable bit of this special feature comes when Riva is explaining in voiceover how demanding Haneke can be and how draining it was for her to portray this woman in rapid decline. A candid shot of someone applying makeup to Riva as she lies in a bed, wrestling out loud about the toll the role is taking on her own mental state is an eye-opening moment.
There's also a nice but repetitive Q&A With director Michael Haneke from Film Independent at LACMA where film critic Elvis Mitchell uses a translator to ask questions of the director.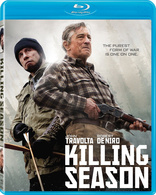 Killing Season (2013)
From the director who brought you Ghost Rider and Daredevil comes a new revenge film that features a ridiculously accented John Travolta (playing a former Serbian soldier) squaring off against Robert De Niro (playing a retired commander from the Bosnian War). One veteran has tried very hard to forget everything about the war, while the other has obsessed over its one defining personal for so long that he doesn't know what else to do except exact revenge.
It's a little bit Deliverance as the two chase each other through the Appalachian mountains and a little bit of The Most Dangerous Game, as Travolta turns his desire to kill De Niro into excuses to degrade him mentally and physically along the way, giving him plenty of opportunities to escape.
Killing Season wants to be a war-is-Hell 'coming home' story, but it ends up playing like a cheap action flick starring two men who are obviously too old to be running through the woods beating the living crap out of each other. Director Mark Steven Johnson tries to find a balance between vague characterizations the never-ending piles of abuse Travolta and De Niro rain down on each other.
Instead, Killing Season, which supposedly played in some theatrical markets this summer, maps everything out including both characters' backstories right from the beginning so here's no suspense at all in trying to guess what made these men mortal enemies. The Blu-ray mercifully contains only featurette, which tops at at 2 minutes, and that's it for special features.