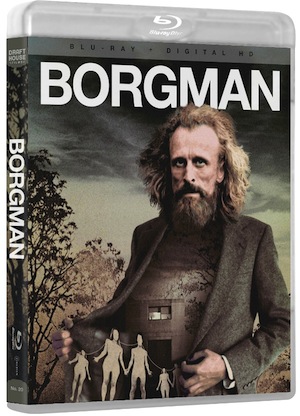 Borgman (2013)
[Solid Rock Fist Up]
Although it received great buzz coming out of Cannes last year and it was the Dutch entry for the Best Foreign Language Film at the 2014 Oscars, Borgman was not one of the five films eventually nominated for that award.
Now, having seen it on Blu-ray — out this week from Drafthouse Films — I know why.
Nothing about Borgman is safe.
It is probably best classifies as a twisted fairy tale set in modern times, but it can be interpreted many different ways. Jan Bijvoet plays the mysterious title character, who is first seen being roused from a hole in the Earth by gun-wielding men and a priest. Eventually, the unkempt drifter sets his sights on a housewife played by Hadewych Minis. His aim is obviously to gain her trust, but the lengths he goes to to do that are completely bizarre.
Writer/director Alex van Warmerdam doesn't use any camera tricks of effects, but Borgman has a distinct quality of magical realism to it. Some scenes with an otherworldly feel come and go quickly, leaving you barely enough time to register what you've seen. Add to that the strange, violent dreams that the housewife is having, and Borgman spends much of its time in some kind of off-kilter reality.
What makes this all work so beautifully is that the decisions made by the housewife are just shy of completely believable and the kids' decision to stay quiet about their new visitor also seems borne out of an innocent worldview and desire for mystery and magic. Borgman is clearly allegorical, but what exactly it speaks to (some personal version of familial unrest, no doubt) is probably different for everyone. Regardless, it's a fascinating film with darkly comic moments that bears repeated viewings.
Deleted scenes are the only real extra feature on this bare-bones Blu-ray release, which is perhaps why Drafthouse included a nice 2-page booklet to accompany the disc. Then again, maybe I shouldn't complain about the lack of extras because this one-of-a-kind film is better off with less explanation and more mystery.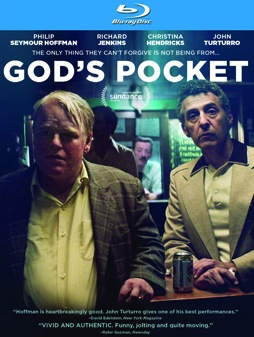 God's Pocket (2014)
[Minor Rock Fist Down]
Mad Men actor John Slattery co-writes and directs this tonally scattershot indie film, which had its premiere at this year's Sundance Film Festival, and debuts this week on Blu-ray from IFC Films. Based on the 1983 novel by Pete Dexter and set in the working-class neighborhood of its title, God's Pocket follows a couple of really bad days in the life of small-time crook Mickey Scarpato (Philip Seymour Hoffman).
Hoffman delivers his usual excellent performance, and his character has the lived-in feel of authenticity, but too many of the scenes between he and his wife Christina Hendricks and seem contrived. The unexpected death of his stepson leads Mickey to some seedy places, and having not grown in the neighborhood, he's treated a little differently. Some of the darker humor comes from the absurdity of the situations Mickey is faced with as he tries to scrape together enough money for a decent funeral.
Hoffman has a natural chemistry with best pal John Turturro, so God's Pocket is at its best when these two fine actors are onscreen. The biggest misstep of the movie is the trite narration from Richard Jenkins, who espouses a kind of low-level loser pride in his columns for the local paper. As parody, I suppose his character works okay, but he's shoehorned into too many scenes just so his comeuppance can prove a point later on that was already clear.
A commentary by Slattery and a couple deleted scenes not worth exploring also appear on the disc. For a look at one of Hoffman's better last performances, see A Most Wanted Man.