Out on Blu-ray and DVD now, the documentary Beats, Rhymes & Life: The Travels of A Tribe Called Quest  is a strong entry in the genre of music documentaries. Even though it documents the history of an influential hip hop group from New York that many mainstream music listeners still might not be familiar with, its fast-paced and tells its story with clarity and insight.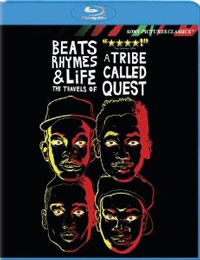 Michael Rappaport, best known for his acting, took on this film as a labor of love, being a big fan of A Tribe Called Quest. (In that respect, it's not too dissimilar from Cameron Crowe and his latest Pearl Jam doc, although that had very different results.)
The director is a tiny presence in the film, mostly heard offscreen asking questions every now and then. It's also obvious that Michael Rappaport is behind the camera during the backstage footage shot at a 2008 string of reunion shows that get pretty tense. Some of the footage shot during this period is very revealing, and its a big factor in the film's success.
After starting Beats, Rhymes & Life: The Travels of A Tribe Called Quest off with a quick scene or two that illustrate the tensions within the hip hop outfit, Rappaport backs up and gives us the history from the beginning. I'm not going to go into that too much because Trey Hock already covered much of that in his theatrical review of Beats, Rhymes & Life: The Travels of A Tribe Called Quest here on Scene-Stealers.
Rappaport spells out the relationships within the band, between Q-Tip and Phife Dawg, who have been friends since the second grade, and DJ/producer Ali Shaheed Muhammad. Jarobi White, a part-time member of A Tribe Called Quest, also seems to be an important element of their personal dynamic — friendly even after he quit the hip hop group — and a close friend of Phife as well.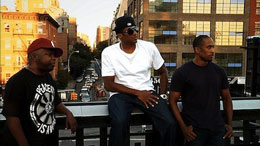 Part of the reason this documentary works so well is not only because Michael Rappaport covered such a huge spectrum of voices and opinions (everyone from DJ Red Alert, who influenced them to Busta Rhymes who was influenced by them) , but because the themes he explores get into personal relationships — something everyone can relate to.
Additionally, this isn't just a story of one band. Beats, Rhymes & Life: The Travels of A Tribe Called Quest is so accessible because it really explores what it was about A Tribe Called Quest that made their music unique. While other hip hop groups in the late 1980s and early 1990s had the market cornered on aggressiveness and boasting, A Tribe Called Quest had more inclusive themes in the songwriting.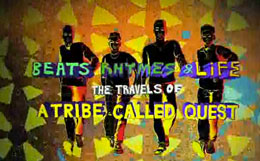 From a sound standpoint, the group sampled jazz and old vinyl to create a new kind of hip hop beat, punctuated by Q-Tip's smooth delivery and Phife Dawg's high-pitched unique rapping style. The movie looks and sounds terrific, with Rappaport blending the music of A Tribe Called Quest with that of its contemporaries (mostly a collective of like-minded artists who were known as The Native Tongues posse) and some seamlessly edited-in original music from Madlib.
Besides a commentary track from director Michael Rappaport, there are some other …
Extras:
"Bringing Beats to Life," a detailed 10-minute look at the colorful animations from James Blagden and Phillip Niemeyer that punctuate the film. The building blocks were organic, traditional hand-drawn styles but then these pieces were animated using digital effects that synced up to the beats of the songs. These sections really help bring the music to life and it's cool to see how punk-rock the process behind it was.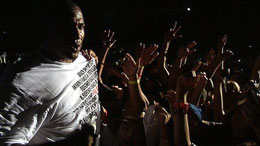 "On the Red Carpet at the Los Angeles Film Festival Premiere" is a surface-value 5-minute featurette with interviews from John Singleton, Taraji P. Henson, Juliette Lewis, Rappaport, and all the band members but Q-Tip, who is noticeably absent, and has been publicly critical of the movie.
Six deleted scenes, 25 minutes long, are comprised of some raw unused interview segments with people like The Jungle Brothers,  The Beastie Boys, Ludacris, and Pharrell Williams, and one section that expands further on why the band broke up and whether they'll make new music again. A huge array of hip-hop artists talk about this in a general sense, from the smallest things that arise from spending day in and day out on tour together to the bigger issues like money, recognition, ego, and friendships dissolving. This segment is definitely worth watching.
A 19-minute featurette on Michael Rappaport called "Mike's Journey" and some extended scenes are Blu-Ray only.