This review originally appeared in shorter form on KSNT-NBC, KTKA-ABC, and KTMJ-FOX, Kansas First News.
Bad Teacher (2011)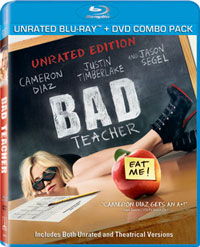 Written by two of the producers of TV's The Office, the Cameron Diaz comedy Bad Teacher has good intentions. It wants to be a bit of nasty, devilish fun but it's a pretty thin premise stretched out even thinner into a 90-minute running time.
Essentially Diaz gets to misbehave for an entire school year while pulling the wool over the eyes of her fellow teachers and principal. Besides being implausible, it just isn't that funny. Justin Timberlake (who is usually very funny on Saturday Night Live) is wasted as a bland do-gooder, Lucy Punch lands a bit more consistently as a more over-the-top version of the same character, but Jason Segel actually raises the bar every time he appears as the gym teacher.
The problem with the movie isn't that Diaz's character is such a mean-spirited person, it's that her motives for being that way are completely contrived.
As such, if the film would have left motivation out completely, they might have had something. Even then, Bad Teacher might have been a good short film, but that's about it.
Page One: Inside the New York Times (2011)
Also out on Blu-ray and DVD this week is Page One: Inside the New York Times, a documentary directed by Andrew Rossi that goes behind the scenes at the iconic newspaper during the biggest media upheaval in history.
Page One is a pretty even-handed film, asking hard questions about what the Internet and media aggregation does to the quality of news that we're getting. A web outlet can pull in stories from all over the web, but somebody has to actually do the reporting and frame the story.
The movie has a little tougher time when it tries to profile several of the unique individuals that work there. David Carr, in particular, could probably fill an entire feature film himself. Instead, the movie looks at the bigger picture.
It's not a barnburner, but Page One is a fascinating look at those on the front lines, fighting for the integrity of news reporting.