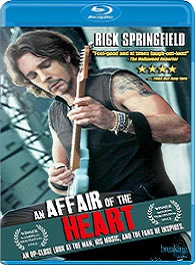 One short segment of the over two hours of extra footage that appears on the Blu-ray of the new documentary An Affair of the Heart (released today) features Rick Springfield at the premiere of the movie hugging fans and smiling for pictures.
That short montage is an encapsulation of the movie itself, which is overflowing with genuine two-way love and emotion between an undervalued, formerly mainstream rock musician and his small but incredibly dedicated legion of middle-aged, mostly female fans.
Directed by Sylvia Caminer (or perhaps more notably edited into lean cohesion by David Dean), An Affair of the Heart spins many plates at once, interweaving the stories of multiple superfans who regularly follow the Yellow Rick Road, attending Springfield live shows at theaters, state fairs, casinos, and cruises all over the country. Although it veers dangerously into whitewash territory several times, the movie wears its heart on its sleeve, which is completely appropriate for a film full of Springfield's poppy hard-rock music and the unbridled, unashamed enthusiasm of his loyal fans.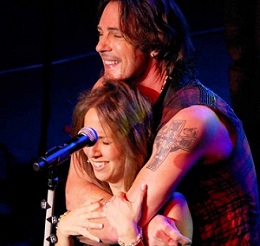 In a Q&A filmed at the Florida Film Festival in Orlando (one of the over two hours of extra features aimed at Springfield fans on the Blu-ray), Springfield says he's been listening to The Beatles. Anyone who has paid more than cursory attention to his music (beyond and including his biggest hit "Jessie's Girl") can probably tell. As a pop songwriter, he has an innate grasp of hooks and structure and his songs hold up way better today than you might think. But his place in pop culture has been cemented as a pretty-boy actor who played rocker, due in no small part to his run on the soap opera General Hospital in the 1980s.
Dave Grohl giving him props in his Sound City doc earlier this year may be giving Springfield some deserved credibility in serious rock circles, but An Affair of the Heart isn't about Springfield so much as its about the strong personal connections (no doubt many of them fueled by nostalgia) that his fans have to him and his music. I actually wish there was more concentration in the doc on Springfield's music and songwriting. Instead, his fans take the hooks for granted and focus on his lyrics, which contain big, broad sentiment. These lyrics are easy to relate to and they've helped Springfield's fans get through some very tough times — including life-threatening health issues and gang rape, among others. So, yeah, An Affair of the Heart  is pretty heavy stuff sometimes.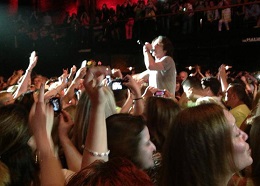 If the movie is portraying him accurately, Springfield — who has had his own fair share of personal drama — depression, infidelity, sex, drug and alcohol addiction, a suicide attempt — has a genuine bond with his fans. Perhaps its his resilience that they relate to as well. He certainly has broken down the (sometimes dangerous) barriers between friends and fans, at least in the stories profiled here, and the kinship the fans feel with him is palpable.
Before you think that this all this fawning over Rick Springfield is too weird, consider this: We all have a nostalgic obsession to one thing or another. For an entire generation of "nerds" (who seem to have inherited the summer movie season in all its $200-million+ budget glory), Star Wars has been a defining cultural entity. So before you go off all high and mighty about the weirdos in the Yellow Rick Road community, think about the bit of pop culture that helped define you. At least Springfield is still writing and recording music — and seemingly on tour forever. The guy is a talented hard worker, who isn't happy to merely rest on his laurels.
In reference to me using the term "community": There's at least one scene in the film that serves as a counterpoint to this idea. It's not all one-sided. there are interviews with people on the same boat as everyone else who didn't buy tickets for the Rick Springfield and Friends Cruise where they question the "cult"-like behavior of his fans. Granted, it's one short scene in a feature-length film, but, hey, it exists!
Although most of his fans seem to be middle-aged women, they're not the only ones. Just as the Star Wars generation has the original trilogy, their kids now have (for better or worse) Episodes I – III. Springfield is doing the same thing. As an example, he formed a bond with a young man named Dustin who he held up onstage as a baby so many years ago, and who is now a teenager playing guitar in his own rock band.
George Lucas is only six years older than Springfield, and both of their early careers (Springfield had 17 Top 40 hits, people!) helped shape a generation. With thousands of fan-made Star Wars videos out there (not to mention documentaries about geekdom and nerd-con movies like Fanboys and Paul), it's only fair that Rick Springfield's superfans get their own documentary too. Caminer tells their stories ably, each covering a different aspect of their personal connection to Rick, and although it may be a little one-sided, I couldn't stop watching An Affair of the Heart.
As a sidenote, this film definitely made me want to hear more of his music. I already own Working Class Dog and love it. Hey superfans: Where do I go next in building my Rick Springfield music collection?