Two films from last year that both employ odd narration strategies couldn't be farther apart in tone, actually. Here's a review of American Hustle and The Book Thief, new out on Blu-ray now: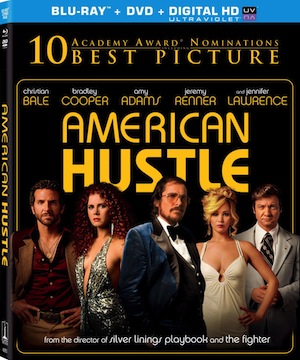 American Hustle (2013)
Writer/director David O. Russell's Oscar-nominated film American Hustle is a funny, swirling, energetic tribute to the fractured American dream in an era when that ideal looked very different than the white-picket fences of the 1950s.
After a disastrous meeting in New York's Plaza Hotel in 1978 between swindlers Christian Bale and Amy Adams, undercover agent Bradley Cooper, and Camden, NJ mayor Jeremy Renner, Bale's character launches into a narrated flashback that quickly runs through his childhood, eventually meeting up with Adams at an indoor pool party. Adams' voice then cuts in, and we have two narrators, united by their desire to become someone other than who they are.
After forty whole minutes where you think you've got a handle on the story, suddenly Cooper starts narrating — probably because the density of the cons on both sides of the law necessitate it. Believe it or not, this kind of storytelling madness all works magnificently. It's because of at least three things: Strong performances all around, an arch yet emotionally raw tone, and long, roving takes. American Hustle has a freewheeling quality, like it could run off the rails at any moment. yet it never does.
The Blu-ray also contains a DVD, as well as 11 deleted or extended scenes, including full takes of Jennifer Lawrence lip-syncing both the Wings' "Live and Let Die" and Santana's "Evil Ways," which was the backup song in case they couldn't get the right to McCartney's tune. A 15-minute making-of documentary is pretty standard stuff, but Russell does a good job explaining how he took a twisty story and turned it into a character study by sympathizing with everyone.
It's also interesting in the b-roll to see the director following his cinematographer Linus Sandgren around with his own handheld monitor while lighting was set for the entire room, a strategy which allowed his actors complete freedom of movement on the set.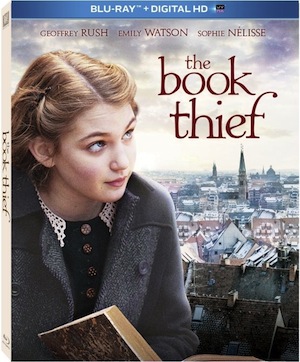 The Book Thief (2013)
The narration in The Book Thief is even stranger, I suppose, than the multiple narrators of American Hustle, but the rest of this adaptation of this best-selling 2005 Markus Zusak book is straightforward to a detriment. The first voice heard in The Book Thief is none other than Death himself, taking a page out of Zusak's novel.
Death tells us the first time he met Liesel (Sophie Nélisse), a 10-year old orphan girl living in Nazi Germany, was when her younger brother died on a train. Her character develops slowly and grows mature over time,with Nélisse in surprsingly full control. Her new foster parents however, played by Geoffrey Rush and Emily Watson, are the kind of one-dimensional stereotypes that you'd expect from a historical coming-of-age drama.
Director Brian Percival, known for his work on TV's Downton Abbey, approaches the story with the expected amount of reverence and responsibility. The art direction is top-notch, recreating a moment in time that hasn't really been portrayed from the inside out very often. Zusak's story is stirring, and it holds the film up during most of its predictable parts, but The Book Thief never rises too far above that. The narration from Death only serves to make it more like some sort of fantastical fairy tale.
The Blu-ray includes six minutes of deleted scenes and 30 minutes of making-of featurettes.