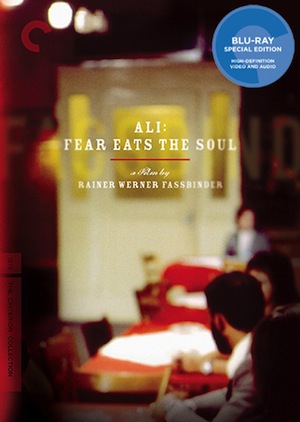 [Rock Fist Way Up]
"Fear eats the soul," says foreign worker Ali, spoken so as-a-matter-of-factly that there can be no doubt of the statement's truth.
But if the fear is directed at you rather than coming from you, it can be equally damaging.
A 60-year-old German widow named Elli (Brigitte Mira) and a 30-something Moroccan mechanic named Ali (El Hedi ben Salem) find this out in the 1974 West German classic Ali: Fear Eats the Soul (Angst essen Seele auf).
Writer/director/actor Rainer Werner Fassbender was at the forefront of the German New Wave and his movie Ali: Fear Eats the Soul is indeed fearless.
Out now in a new restored 4K digital restoration on Blu-ray from The Criterion Collection, this emotionally raw picture combines minimalistic acting, evocative framing, and unabashed melodrama for a timeless moviegoing experience.
What is surprising about the movie is not just how much racism and hate is spewed at Ali and the "dirty" foreign workers who are treated like second-class citizens, but rather the complete control Fassbender exerts over such a simple story. When this unlikely pair fall in love, it's at least partially because of extreme loneliness on both sides. Brigitte Mira is a standout, embodying all of the contradictions of her character, while El Hedi ben Salem — the picture of minimalistic acting — projects a quiet nobility.
You'd never know the movie was shot in just under two weeks. Fassbender serves up deep, vibrant colors in the film's palette, despite the low-income, sometimes dingy environs. He makes the most of the full-frame 1.37:1 aspect ratio as well, framing his subjects surrounded by objects to emphasize their isolation, especially as they're further backed onto corners, making poor decisions.
But even as the conflict between family and friends who disapprove of their relationship verges on sameness, the characters act out in believable, heartbreaking ways. The special features, especially the lengthy introduction by filmmaker Todd Haynes, go into detail of how Ali: Fear Eats the Soul was inspired by the 50s melodramas of Douglas Sirk. This includes interviews with Brigitte Mira and editor Thea Eymèsz, as well as the scene from Fassbinder's 1970 film The American Soldier that inspired Ali: Fear Eats the Soul.
In 2002, filmmaker Shahbaz Noshir made a meta short based on true disturbing events called Angst isst Seele auf, with Mira, Eymèsz, and Ali DP Jürgen Jürges. This also appears on the Blu-ray, as well as a 1976 BBC TV show about the German New Wave called Signs of Vigorous Life: New German Cinema, rounding out the usual excellent array of Criterion extras.