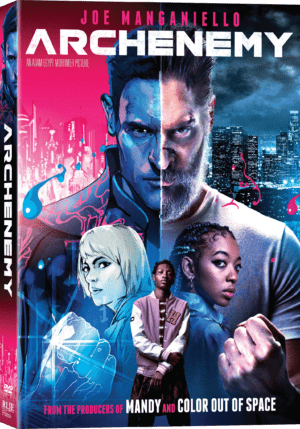 [Rating: Minor Rock Fist Up]
On DVD and Blu-ray now from RLJE Films
The latest film from Adam Egypt Mortimer, Archenemy (out February 16 on DVD and Blu-ray from RLJE Films), sees the writer/director once again applying his independent lens to a new genre. As Some Kind of Hate redefined the slasher genre and Daniel Isn't Real twisted the imaginary friend trope into something new and weird, so does his latest tackle the superhero.
"In Archenemy, Max Fist (Joe Manganiello) is a local drunk who claims to be a superhero from the planet Chromium. He tells anyone who will listen that he was pulled into a wormhole, falling through time and space, and dropped to earth without any of his powers. No one pays any attention to Max except a teenager named Hamster (Skylan Brooks) who can't get enough of Max's stories. When Hamster and his sister (Zolee Griggs) get in trouble with a vicious drug syndicate led by The Manager (Glenn Howerton), Max takes to the streets as a brutal vigilante hellbent on proving himself as the hero no one believes him to be."
From the moment Adam Egypt Mortimer brought viewers Some Kind of Hate in 2015, he was obviously a director with an eye toward creating something new from old tropes. Unsatisfied with the usual slasher elements, his creation of a villain/antihero in that film's Moira (Sierra McCormick) gave us a movie which – while a little rough around the edges – showed that Mortimer was a creator to watch.
2019's Daniel Isn't Real saw Mortimer come into his own, with a vision that was psychedelic in its weirdness, while ably twisting the whole Fight Club concept of an imaginary friend into new and intriguing shapes. With Archenemy, the writer/director has left the horror genre and crafted a superhero film free of the usual ties to already-extant properties.
As Max Fist, Joe Manganiello basically owns Archenemy. He manages to bring gravitas to the role, and leaves just enough questioning glances in his portrayal of the dimensionally-adrift character to leave it hanging for the better part of the film as to whether or not he's just a schizophrenic or actually who he believes himself to be. The fact that Max isn't always quite sure – conveyed through looks and posture, rather than his always-confident storytelling – makes the film intriguing, and keeps the viewer guessing throughout.
The rest of the cast is capable. Skylan Brooks' Hamster is maybe a little more naive than one would expect from a young adult with a sister, Indigo (Zolee Griggs), who sells drugs for Howerton's Manager. Griggs is ably confident and strong, with the clearest vision of any of Archenemy's characters – save for Amy Seimetz's character, who doesn't appear until late in the film. Not for nothing are the two most open-eyed and realistic characters women, surrounded by men whose thoughts are dreamy, pie-in-the-sky fantasies.
The film's animated segments are a clever way of allowing the film to show what the world might have looked like on Chromium, as well as Max Fist's existence there, while working more strongly in the realm of fantasy than a effects-laden sequences might have. They look like a cheap comic book, but that seems to be more intention than unfortunate happenstance, reflecting the possible unreality of the whole situation.
Archenemy is also buoyed by a score from Umberto, whose work in the realm of horror-inspired electronic music makes him a left-field choice for such a film with such an action-oriented second half. The music has such a vibrancy and upbeat nature at times that's quite different from what he's been making for the last decade. However, given the fact that Umberto's work has always worked with a certain groove to it, the pairing of his darker influences with a certain motorik and kosmische rhythm makes for a score which heightens the tension admirably.
Thanks to an ending which ties everything together nicely and explicitly acknowledges what's happened – as well as mirroring Daniel Isn't Real in an interesting way that fans of both films will readily spot – Archenemy is a solid third outing from Adam Egypt Mortimer and a welcome new swerve on the superhero genre.
The bonus features on the DVD are limited to a brief "The Making of Archenemy" featurette. It offers up a little bit about the making of the film, and what attracted the various players to the film, but it almost leaves more questions than it answers.
Adam Egypt Mortimer's Archenemy is out now on DVD and Blu-ray from RLJE Films.