A Good Old Fashioned Orgy, new out on DVD now, may be one of the best titles of the modern raunchy romcom genre.
That's a lot to live up to, really, especially for a movie that was filmed way back in 2008, languished for years without a distributor, and was finally dumped unceremoniously into 142 theaters this September.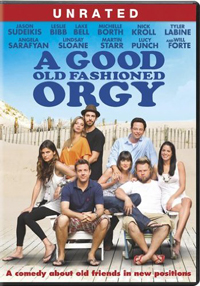 The weird thing is: It deserved better than that. With the surprise success of Horrible Bosses this summer,  A Good Old Fashioned Orgy (which also stars Jason Sudeikis) should have received more attention. The flipside is that I guess movies with the word "orgy" in their titles aren't going to be big buys for the multiplexes of America.
Anyway, let's get to the movie itself.
A Good Old Fashioned Orgy, thankfully, has more on its mind than just being a sex-filled romp with tons of lewd, bawdy humor. It fits snugly into the recent category of Judd Apatow-style sex comedies about nerdy men who have a hard time growing up yet somehow are able to make it with extremely hot women.
Jason Sudeikis headlines an ensemble cast of thirtysomethings who are lamenting the upcoming sale of his father's Hampton estate, where he has held big theme-style parties for the last 15 years or so. For one last blowout, it's decided that the close-knit group of friends should do something really wild — have "a good old fashioned orgy."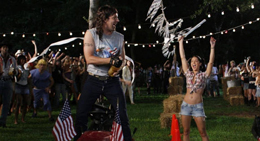 It becomes obvious that the central conceit of A Good Old Fashioned Orgy is that an inhibition-free 70s sexcapade with your best friends may not be the best thing idea for a bunch of friends with all of our modern hang-ups. Rather than bringing these adulthood-challenged friends closer, having "a good old fashioned orgy" will more than likely tear them apart.
Writer/directors Alex Gregory and Peter Huyck (TV comedy writers for Letterman, The Larry Sanders Show, Frasier, and King of the Hill) based many of the characters on themselves and their friends, so they get the restlessness and sense of community right between them, even if some of the supporting actors are reduced a bit to easily to one-trait caricatures.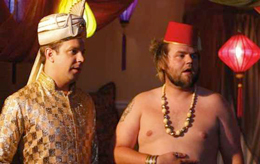 Tyler Labine has a natural chemistry with Jason Sudeikis, so their friendship is the most believable, but most of the laughs come from Sudeikis' deadpan one-liners and not Labine's often overbearing delivery.
Lake Bell, Michelle Borth, Martin Starr, Nick Kroll, and Lindsay Sloane are all fine, but Will Forte steals a couple key scenes as the one guy who's entered Commitmentville before the others and has a minor breakdown on his wedding day.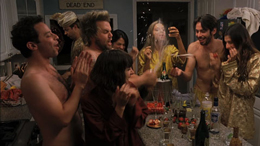 What is surprising about A Good Old Fashioned Orgy is that it doesn't exactly end up where its expected to. Sudeikis' relationship with sexy realtor Leslie Bibb gets more real as the orgy's daedline approaches, and its clear that the orgy will derail everything. Without delivering any spoilers, let's just say that the movie zigs when you think it should zag. (That said, a last-minute plot contrivance lets him off the hook way too easily.)
When the time comes, A Good Old Fashioned Orgy reins in some of the rougher edges and has some pretty genuine, sweet moments, even if it is a little schizophrenic in tone sometimes.
There are no big statements made on the part of the filmmakers, no wider generational revelations that we haven't seen in countless other rude comedies of the last five or six years (although the commentary track alludes to a much longer speech by Sudeikis that might have put the orgy in a funnier historical perspective), but the cast members' chemistry and its refusal to go straight-up formulaic make it an interesting diversion.