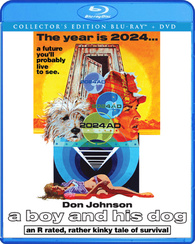 In the 50-minute interview with writer/director L.Q. Jones and author Harlan Ellison that's included in Shout! Factory's new DVD/Blu-ray re-issue of the 1975 sci-fi post-apocalyptic film A Boy and His Dog, the old friends (or perhaps more aptly, frenemies) talk about how one angry woman brought her kids to see the film based on its kid-friendly title.
The movie was marketed with the tagline "An R-Rated, Rather Kinky Tale of Survival" specifically to avoid that kind of thing happening, but I suppose it was inevitable.
Of course, "kinky" doesn't enter into it. A Boy and His Dog, starring a young Don Johnson as an 18-year-old boy named Vic with a one-track mind and the voice of Tim McIntire as his telepathic dog Blood, can come off downright misogynistic. As the two roam the desolate countryside (the desert look of which influenced every single post-apocalyptic movie since then), Blood tracks the scent of women for Vic while Vic finds food for Blood. With various other vagabonds wandering around looking to fill those same urges, these two survivors have forged a partnership that works.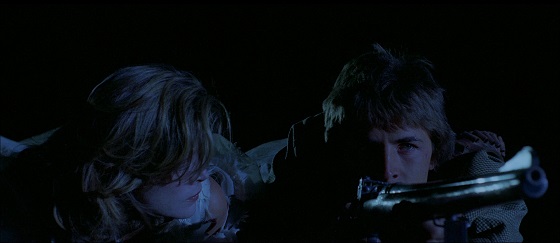 It's a cynical outlook, one where women are to be used only to fulfill men's urges, so when Vic stumbles upon a sweet young beauty named Quilla June (Susanne Benton), whom Blood takes an immediate dislike towards, he falls for her. Not without fulfilling his urges, of course, but she eventually comes between Vic and Blood, which leads Vic to a place that seems somehow even more nightmarish than the hellscape of ravaged Earth. The love triangle featuring the girl that comes between the bonds of male companionship dates back the westerns of the classic era, but it has a much more subversive twist here.
The dialogue in A Boy and His Dog, which Jones admits lifting almost all of it from Ellison's original novella, contains some of the blackest, most sardonic humor around. Blood is an extremely intelligent being and because no one else except Vic can hear him, his sneering voice is completely unrestricted and serves as a kind of pitch-black narration for the first half of the film. There is a surprising, hilarious switcheroo (featuring Jason Robards) that I won't spoil here, but suffice it to say that it sends up Norman Rockwell-style stereotypes and seems aimed directly at the popular TV fare of the 70s, such as The Waltons.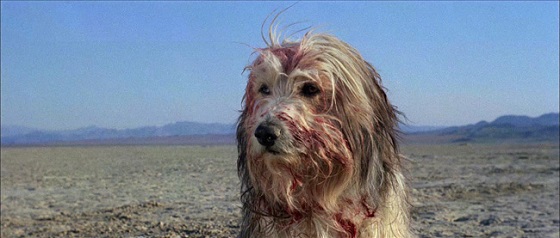 A Boy and His Dog has long been a cult favorite, and it's great to have a definitive version of this one-of-a-kind low-budget treasure available in a digital nice transfer on home video. This release includes both a DVD and Blu-ray version of the movie and an older commentary track with Jones, cinematographer John Morrill, and critic Charles Champlin is also included. The interview with Ellison and Jones, however, is the real treat, as both men inflate their egos and trade barbs throughout this seemingly uncut and certainly unfiltered conversation.
Ellison is still coming to terms with Jones' choice to make a crude joke of the film's ending, something he says turns his own natural misanthropic tendencies into straight-up misogyny, and its interesting to hear how several other lines from the film were deleted to avoid that same interpretation.