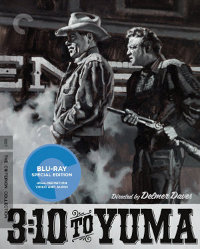 Director Delmer Daves' 1957 western about a cattle rancher forced into the role of getting a dangerous killer out of town finds new life on home video as 3:10 to Yuma is the latest classic to get the Criterion treatment.
Dan Evans (Van Heflin) is a struggling rancher with a wife (Leora Dana), two sons (Barry Curtis, Jerry Hartleben), and cattle who are dying of thirst during one of the worst droughts in recent memory. When Ben Wade (Glenn Ford), the leader of an outlaw gang who has terrorized the territory for years, is caught, Dan accepts an offer of $200 to escort Wade to a nearby town and put him on the 3:10 train to Yuma for trial.
With only the town drunk (Henry Jones) at his side, Evans tries to keep Wade hidden and put him on the train before the rest of his gang can find them and release their leader.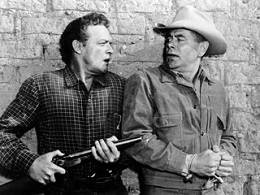 Set-up as a lesser version of High Noon, the action and drama come from waiting and trying to beat both the clock and an outlaw gang on their way. Although not what I would call a great movie, there are many good moments in this film. (And it's certainly better than the recent remake with Christian Bale and Russell Crowe.)
Ford provides Wade with a charming personality and his interaction with Evans as he tries to turn him, buy him, frighten him, and ultimately save him, are what make the film memorable. Wade is so charming he even sweeps the local barmaid (Felicia Farr) off her feet. Yes he's a murderer and a bandit, but he's about as likable, while still dangerous, as one you are likely to find.
Available on both Blu-ray and DVD, the single-disc Criterion Collection set includes a newly restored 4K digital film transfer, both stereo and monaural soundtracks, a new interview with author Elmore Leonard, and  an interview with Glenn Ford's son and biographer Peter Ford.
The set also includes a collector's booklet and essay by film critic Kent Jones.