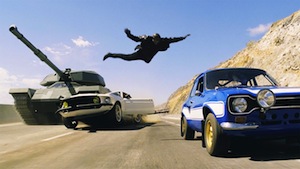 Two legacy summer movies debut this week, but only one of them is funny. Eric does his best to get us through Todd Phillips' latest film, The Hangover Part III before he and Trevan discuss the unhinged absurdity that is Fast & Furious 6.
If you don't already follow us on Facebook, you should. Our Facebook page is where we post fun stuff from around the Web as well as our own reviews, 10 lists and more. It's also a great place to go to find out more about our events like KCAI Screening Room and Movies That Rock. So what are you waiting for?
Subscribe to The Scene-Stealers Podcast on iTunes or our RSS.