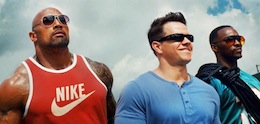 This week, Eric, Trey, and Trevan welcome Matt Lloyd, a confessed Bay-o-phile to talk about Pain & Gain, the stranger-than-fiction pet project from Michael Bay. The film stars Mark Wahlberg, Dwayne Johnson and a huge supporting cast and follows body builder bank robbers as they extort millions from some rich businessman or something.
If you don't already follow us on Facebook, you should. Our Facebook page is where we post fun stuff from around the Web as well as our own reviews, 10 lists and more. It's also a great place to go to find out more about our events like KCAI Screening Room and Movies That Rock. So what are you waiting for?
Subscribe to The Scene-Stealers Podcast on iTunes or our RSS.