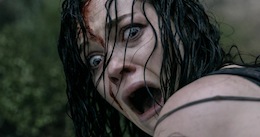 This week, Eric recounts his junket screening of Evil Dead after lamenting that he has sold out once and for all. Trevan discusses The Sapphires, a frustrating, inspired-by-a-true story whose real world story is more interesting than the fictionalized vehicle the studio cooked up. Finally, Trey and Trevan both discuss Ginger and Rosa, a fantastic film by Sally Potter.
If you don't already follow us on Facebook, you should. Our Facebook page is where we post fun stuff from around the Web as well as our own reviews, 10 lists and more. It's also a great place to go to find out more about our events like KCAI Screening Room and Movies That Rock. So what are you waiting for? Go like us, dummy!
Subscribe to The Scene-Stealers Podcast on iTunes or our RSS.