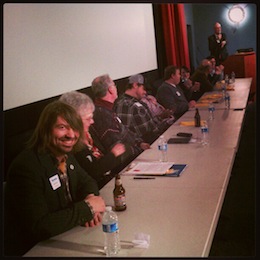 We're doing something a little different with this week's podcast. Eric took part in a Critics Vs. Oscars panel along with several other Kansas City film critics and we've got the entire discussion here. Hosted by the always great Brian McTavish, the panel featured local critics such as Bob Butler, Shawn Edwards, our friend Ryan Davis from LostInReviews.com (now doing great stuff with The Alamo Drafthouse), and many more. The critics all make Oscar predictions and Eric makes his feelings on Les Miserables perfectly known.
Check out our reviews Friday for Hansel & Gretel: Witch Hunters and Quartet.
Full list of panelists: Kansas City Library Movie Editor Robert Butler; WDAF-TV Fox 4 Film Critics Shawn Edwards and Russ Simmons; Kansas City Star Contributing Movie Reviewer Jon Niccum; Scene-Stealers/KCTV5/Lawrence.com film critic Eric Melin, Lost in Reviews editor Ryan Davis; freelance entertainment reviewer Marie Asner; Dustin Adair and Molly Montgomery of Reviews For Humans; Jack Poessiger of "Jack Goes to the Movies" on Time Warner Cable; and Dan Lybarger from the Arkansas Democrat- Gazette.
Subscribe to The Scene-Stealers Podcast on iTunes or our RSS.