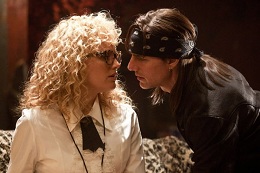 Revisionist rock history. Absurd Musical Numbers. Tom Cruise serenading Malin Ackerman's ass. Even Bryan Cranston shows up in his tighty-whities.
Rock Of Ages does indeed have something for everyone. This week Eric, Trevan, Clair and guest Alan Rapp talk about the '80s music homage/parody/something-or-other.
Subscribe to The Scene-Stealers Podcast on iTunes or our RSS.