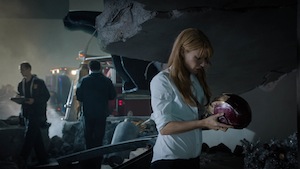 How do you follow the latest from writer/director/auteur Terrence Malick? With possibly the biggest summer movie of the year, duh. Trey and Trevan are a man down this week, with Eric hanging out in New Orleans or something. Honestly, who knows what he does. Trey talks To The Wonder, one of Malick's more accessible and beautiful efforts. While Trevan takes on Iron Man 3, a movie he says extends beyond the status quo and is funnier and more clever than it has any reason to be.
If you don't already follow us on Facebook, you should. Our Facebook page is where we post fun stuff from around the Web as well as our own reviews, 10 lists and more. It's also a great place to go to find out more about our events like KCAI Screening Room and Movies That Rock. So what are you waiting for?
Subscribe to The Scene-Stealers Podcast on iTunes or our RSS.