With a star-studded cast and a thrilling story that will keep you guessing right up until the credits, Broken City is available to own on Blu-ray now.  The Blu-ray brings with it some incredible extras offering a new insight into the twists and turns of the story through deleted scenes and an alternate ending, as well as a look at Allen Hughes filming making process, the cast improvisation and the neo-noir genre as a whole.
To celebrate this release, we have copies of the Blu-ray to give away to our sitegoers. All you have to do is fill out the form below and tell us what your favorite neo-noir movie is, and the winners will be picked at random.
Mark Wahlberg, Russell Crowe and Catherine Zeta Jones star in this gripping crime thriller where everyone has a motive and no one can be trusted.  Seven years after being forced to resign as a New York police officer, private detective Billy Taggart (Wahlberg) takes on his toughest case yet: following the wife (Zeta-Jones) of the city's hard-nosed mayor (Crowe), who's convinced she's cheating on him.  But by the time the mayor reveals his true intentions, Billy is already in too deep. Now, with his freedom – and quite possibly his life – on the line, Billy will risk it all in a desperate bid to expose the truth, and seek redemption in a city where second chances don't come cheap.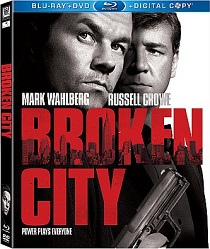 Broken City Blu-ray Special Features
Alternate Ending
Five Deleted / Extended Scenes
Putting It All Together Documentary – A Behind-the-Scenes look including Cast Profiles, Anatomy of a Thriller, a "Black List" script and more
Theatrical Trailer
Broken City releases on Blu-ray and DVD April 30.
No more submissions accepted at this time.