We have two free passes to attend the special event BAYMAGEDDON, featuring a four-movie, 10-hour marathon screening of Michael Bay flicks, audience games, and a customized themed menu!
This all-day insane extravaganza is Sunday April 21 and starts at 2pm at the Alamo Drafthouse Mainstreet in Kansas City.
Michael Bay has crafted some of the most badass and all-around enjoyable films my eyes have ever had the pleasure of seeing in a darkened movie theater…and that is why this April the Alamo Drafthouse and Tough Guy Cinema is celebrating Bay's new release with a non-stop, all-day , all-Bay mainline of eye cocaine called BAYMAGEDDON.
We're putting together a collection of our favorite Bay films films in an attempt to PUMP YOU UP for a FREE early sneak preview of the white-knuckled thrill ride of his return to form, PAIN AND GAIN.
You read that right… four movies, one unadulterated manly night of muscles, mayhem, a mutual love of a man and his craft and any excuse for cinematic mayhem. We'll have on-stage games, custom Bay-tastic preshows, prizes, giveaways…and who knows we might even have a surprise or two?
So start jacking up your corneas now because they are not prepared for the 10-hour red hot blast of non-blinking pure excellence they are about to be exposed to. If this is your first time Baying, watch out…because once you go Bay, then there's no other way.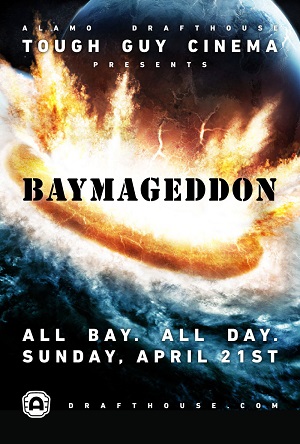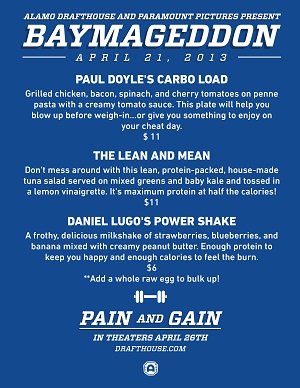 Enter below and we will have a random drawing and email the winner on Saturday! Good luck!
cforms contact form by delicious:days