We have a copy of PEOPLE LIKE US on a Blu-ray/DVD combo pack and we want you to have it!
The PEOPLE LIKE US Blu-ray/DVD will be given away randomly through a mobile text-messaging system.
Synopsis: Chris Pine, who plays Sam, is a twenty-something, fast-talking salesman whose latest deal collapses the day he learns his father has suddenly died. Against his wishes, Sam is called home to put his father's estate in order and reconnect with his estranged family. While there, he uncovers a startling secret that turns his entire world upside down – he has a 30 year-old sister (Elizabeth Banks) he never knew existed.
Text the message "FAMILY," a space, and your zip code to 43549 for a chance to win PEOPLE LIKE US on Blu-ray/DVD.
(Example: Text "FAMILY 66061″ to 43549.)
Winners will be informed via text message on Tuesday August 16.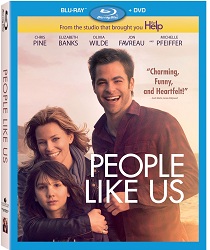 There is no charge to text 43KIX. Message and data rates from your wireless carrier may apply.