We have 50 screening passes to see the new Fox Searchlight film WHIP IT on Tuesday, September 29 at AMC Studio 30 (119th & I-35).
Wanna go?
We'll have a drawing on Tuesday, September 22 to determine the winner and passes will be sent in the mail.
The film stars Ellen Page, Drew, Barrymore, Marcia Gay Harden, Juliet Louis and Eve and was directed by Drew Barrymore.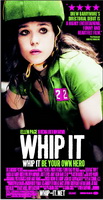 Remember to get there early, as these screenings are often overbooked. Your pass will have more info on this. Good luck!
cforms contact form by delicious:days