We have 50 passes to give away to an advance screening of the new horror remake THE STEPFATHER.
The screening is Thursday, Oct. 15 at the Legends 14 (1841 Village West Pkwy, Kansas City, KS) at 7:30pm. It's the same night as LAW ABIDING CITIZEN, so don't sign up for both!
The first 50 people to sign up are winners and should expect a pass in the mail.
In other words, if the form is there and you fill out, you've won!
Michael Harding (Penn Badgley) returns home from military school to find his mother (Sela Ward) happily in love and living with her new boyfriend, David (Dylan Walsh). As the two men get to know each other, Michael becomes more and more suspicious of the man who is always there with a helpful hand. Is he really the man of her dreams or could David be hiding a dark side?
Rated PG-13 for intense sequences of violence, disturbing images, mature thematic material and brief sensuality.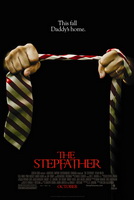 If you are one of the first 50 to sign up, you are a winner. Your name will be on a list at the theater door with two passes reserved. Please do not enter twice, we only have 50 passes.
As usual, please remember to get there early, as these advance screenings are often overbooked to ensure a full house.
cforms contact form by delicious:days