We have passes to see THE RITE on Monday January 24 at AMC Town Center 20 at 7:30pm and we want you to have them!
Inspired by true events, "The Rite" follows skeptical seminary student Michael Kovak (Colin O'Donoghue), who reluctantly attends exorcism school at the Vatican. While in Rome, he meets an unorthodox priest, Father Lucas (Anthony Hopkins), who introduces him to the darker side of his faith.
Directed by Mikael Håfström ("1408"), "The Rite" is a psychological thriller that uncovers the devil's reach to even one of the holiest places on Earth. The film stars Oscar® winner Anthony Hopkins ("Silence of the Lambs," "Wolfman"), Colin O'Donoghue in his feature film debut, Alice Braga ("Predators"), Ciarán Hinds (HBO's "Rome," upcoming "Harry Potter and the Deathly Hallows" films), Toby Jones ("Frost/Nixon," "Harry Potter and the Chamber of Secrets") and Rutger Hauer ("Batman Begins," "Blade Runner").
Just enter the info below to sign up for a random drawing. The winners will be chosen and notified on Thursday, January 20.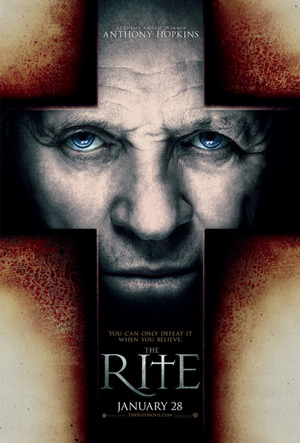 Good luck!
cforms contact form by delicious:days