We have five pairs of passes to see SHATNER'S WORLD on its one-night-only broadcast of Thursday April 24 at the AMC Studio 30 and we want you to have them!
Just fill out the form below and winners will be chosen by random and notified via email on Thursday April 17.
SHATNER'S WORLD
www.fathomevents.com/event/shatners-world
SHATNER'S WORLD, the critically acclaimed one-man show, takes audiences on an exhilarating behind-the-scenes voyage through his storied life and career. With an energetic mix of personal anecdotes, laugh-out-loud humor and poignant moments, William Shatner shares his phenomenal journey from classically-trained Shakespearean actor to internationally-known cultural icon, all the while illuminating the unique persona of his most important character, himself.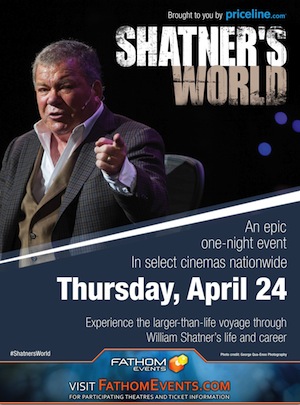 Good luck!
No more submissions accepted at this time.