We have advance passes to see SHERLOCK HOLMES: A GAME OF SHADOWS in Kansas City and we want you to have them!
The screening is Monday, December 12 at the AMC Studio 30 at 7:30pm.
We'll have a random drawing on Friday December 9 to determine the winners. Fill out the form below and answer three trivia questions correctly to win!
Synopsis: Robert Downey Jr. reprises his role as the world's most famous detective, Sherlock Holmes, and Jude Law returns as his formidable colleague, Dr. Watson, in "Sherlock Holmes: A Game of Shadows." Sherlock Holmes has always been the smartest man in the room…until now. There is a new criminal mastermind at large—Professor Moriarty (Jared Harris)—and not only is he Holmes' intellectual equal, but his capacity for evil, coupled with a complete lack of conscience, may actually give him an advantage over the renowned detective. Holmes' investigation into Moriarty's plot becomes ever more dangerous as it leads him and Watson out of London and across Europe, to France, Germany and finally to Switzerland. But the cunning Moriarty is always one step ahead as he spins a web of death and destruction—all part of a greater plan that, if he succeeds, will change the course of history.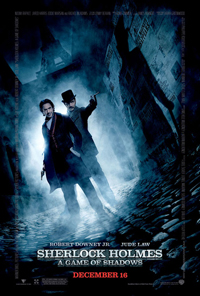 Answer these 3 questions below to win:
1. What pop singer did SHERLOCK HOLMES: A GAME OF SHADOWS Guy Ritchie used to be married to?
2. What popular Swedish actress makes her English-speaking debut in SHERLOCK HOLMES: A GAME OF SHADOWS?
3. In what year did Sherlock Holmes the character first appear in publication?
Good luck!
No more submissions accepted at this time.