We are also giving away tickets to a screening of this movie the day after this in Kansas City.
The FIRST 50 people to fill out the form below will win advance passes to an advance screening of ZOMBIELAND on Wednesday, September 30 at 7:30 PM at the Southwind 12 in Lawrence, KS.
The movie stars Woody Harrelson, Jesse Eisenberg, Abigail Breslin, Emma Stone, and Mila Kunis. After America is ravaged by a zombie plague, a lone band of survivors fights the living dead while they cross the nation. They stop in an amusement park, where they believe they will be safe.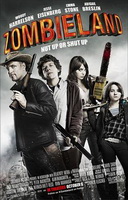 Do us a favor and please don't sign up unless you know you can go. The more Scene-Stealers that show up, the more passes we get in the future to give to you. See how that works?
cforms contact form by delicious:days