We have 5 pairs of passes to see ZOMBIELAND: A TRIBUTE TO THE TWINKIE on Thursday January 3, 2013 at 7:10pm at the Alamo Drafthouse Mainstreet in Kansas City and we want you to have them!
Sign up below and we'll pick 5 random winners on New Year's day to see ZOMBIELAND and enjoy one final last dance with Hostess' beloved and now-defunct Twinkies.
Synopsis: When we first heard of the closing of HOSTESS all we could picture was Tallahassee's (Woody Harrelson) face as he searched endlessly for the last Twinkies in existence! That is why we are sending the Twinkie out in style with a special showing of Zombieland and enough Twinkies for everyone to enjoy a final taste!! So, join us on January 3rd for this special screening and enjoy what may be the last Twinkies in existence!
Nerdy college student Columbus (Jesse Eisenberg) has survived the plague that has turned mankind into flesh-devouring zombies because he's scared of just about everything. Gun-toting, Twinkie-loving Tallahassee (Woody Harrelson) has no fears. Together, they are about to stare down their most horrifying challenge yet: each other's company. Emma Stone and Abigail Breslin co-star in this double-hitting, head-smashing comedy.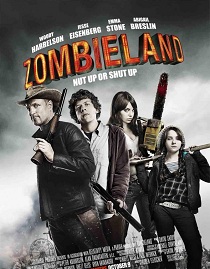 Good luck!