We have advance passes to see THE WOMAN IN BLACK in Kansas City and we want you to have them!
The screening is Tuesday January 31 at 7:00PM at the AMC Town Center 20 (11701 Nall Avenue Leawood, KS 66211).
All you have to do is fill out the information below and you'll be registered to win two passes to THE WOMAN IN BLACK. We'll have a random drawing on Friday January 27 to determine the winners.
Synopsis: In this supernatural thriller, Arthur Kipps (Daniel Radcliffe), a widowed lawyer whose grief has put his career in jeopardy, is sent to a remote village to sort out the affairs of a recently deceased eccentric. But upon his arrival, it soon becomes clear that everyone in the town is keeping a deadly secret. Although the townspeople try to keep Kipps from learning their tragic history, he soon discovers that the house belonging to his client is haunted by the ghost of a woman who is determined to find someone and something she lost…and no one, not even the children, are safe from her vengeance.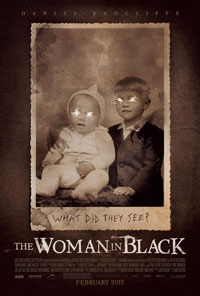 THE WOMAN IN BLACK opens opens nationwide Friday February 3, 2012.
Good luck!
No more submissions accepted at this time.