We have advance passes to see SAFE HOUSE starring Denzel Washington and Ryan Reynolds in Kansas City and we want you to have them!
The screening of SAFE HOUSE is Tuesday February 7 at the AMC Mainstreet 6 at 7:30pm.
To register for the random drawing to determine the winners of two passes each, just fill out the form below and we'll draw winners on Friday February 3.
Synopsis: Denzel Washington, Ryan Reynolds and Vera Farmiga star in the upcoming action-thriller. Denzel Washington plays the most dangerous renegade from the CIA, who comes back onto the grid after a decade on the run. When the South African safe house he's remanded to is attacked by mercenaries, a rookie operative (Ryan Reynolds) escapes with him. Now, the unlikely allies must stay alive long enough to uncover who wants them dead. It opens in theaters February 10, 2012.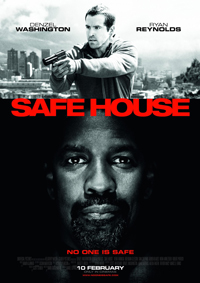 Good luck!
No more submissions accepted at this time.