Enter below to win a pair of tickets to see the rebroadcast of the historic live event Monty Python Live (mostly) on Thursday, July 24 in Kansas City at AMC Studio 30!
Fathom Events are thrilled to bring a broadcast of A LIVE broadcast from the final performance of Monty Python's last stage show together (probably) to select cinemas nationwide.  The ACTUAL tickets for this show in England sold out in a record 43.5 seconds.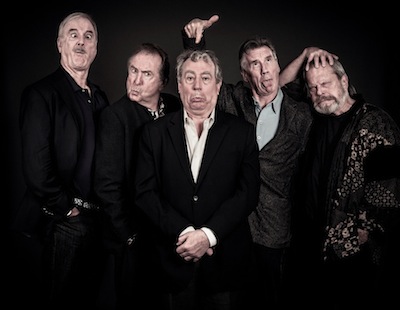 A random drawing will be held Sunday morning and five winners will be chosen. Fill out the form below to enter!
'Monty Python Live (mostly)' synopsis
Fathom Events and Picturehouse Entertainment invite you to experience comedy legends Monty Python's long-awaited reunion when Monty Python Live (mostly) is broadcast LIVE to cinemas nationwide on Sunday, July 20 with rebroadcasts onWednesday, July 23 and Thursday, July 24.
For the first time in over three decades, comedy legends Monty Python will be performing live on stage together at London's famed O2 Arena. At a combined age of just 361, John Cleese, Terry Gilliam, Eric Idle, Terry Jones and Michael Palin will once again perform some of their greatest hits, with modern, topical, Python-esque twists.
Don't miss your opportunity to be a part of one of the biggest live events of 2014!
For more information on the show and for ticketing information, please visit:
http://www.fathomevents.com/event/monty-python-live-mostly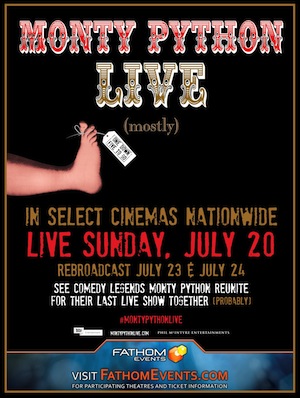 Good luck!
No more submissions accepted at this time.