We have a number of passes to give away for next week's installment of THE LATE SHOW at Kansas City's Alamo Drafthouse — the one and only VIDEODROME!
To win, just fill out the form below and choose the day you want to see the film at any of its showings, all at 10pm:
Sunday March 24
Monday March 25
Tuesday March 26
Thursday March 28
Max (James Woods) heads a Toronto TV station that mainly consists of broadcasting two things: softcore porn and violence. Max wants to break out and show new material in order to get a different audience. Using their pirate satellite dish, his company has found a Malaysian show called VIDEODROME , which depicts the torture and killing of anonymous victims. Not much more is known about the show, but Max orders it to be on his station's airwaves. Little by little Max begins to uncover the truth behind the mysterious VIDEODROME . The closer he gets to finding the show's ultimate motive the more he realizes the serious danger he and viewers of the show are in. Part brilliant satire, part surreal sci-fi horror film, VIDEODROME is David Cronenberg at his very best. Darkly funny, terrifying and relevant, this film may not have been the one that put Cronenberg on the map, but it made everybody realize that he was here to stay.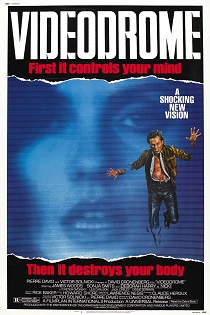 Good luck!
No more submissions accepted at this time.