We have passes for the new Ashton Kutcher / Natalie Portman comedy "No Strings Attached" and we want you to have them.
The screening is January 19 at AMC Town Center (119th & Nall) at 7:30pm.
In this comedy, Emma (Natalie Portman) and Adam (Ashton Kutcher) are life-long friends who almost ruin everything by having sex one morning. In order to protect their friendship, they make a pact to keep their relationship strictly "no strings attached." "No strings" means no jealousy, no expectations, no fighting, no flowers, no baby voices. It means they can do whatever they want, whenever they want, in whatever public place they want, as long as they don't fall in love. The questions become – Can you have sex without love getting in the way? And can their friendship survive?
Fill out the form below and tell us who would be your "no strings attached" sex partner and why.
The best entry will win passes to the screening and a prize pack from the film, including a cup, mini-poster, shot glass, and matchbook.
The runners up will be win passes to the movie! All other winners will be chosen at random.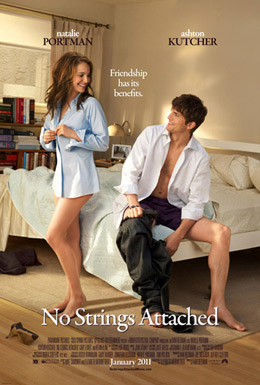 Entries into the contest automatically approve permission to reprint their answer to the question, without using their names, of course.
Good luck!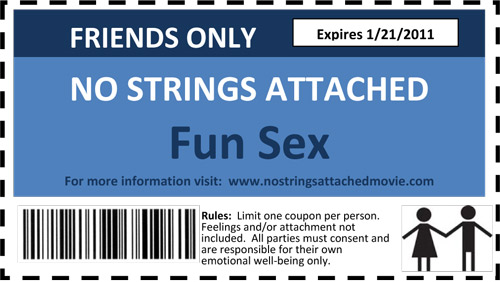 cforms contact form by delicious:days