We have passes to see the local world premiere of NITRO CIRCUS THE MOVIE 3D on Tuesday, August 7 at 7:30PM at AMC Barrywoods and we want you to have them!
The tickets will be given away randomly through a mobile text-messaging system.
In NITRO CIRCUS THE MOVIE 3D, Travis Pastrana and his tight-knit, highly-skilled, adrenaline-addicted friends bring their impossible, ridiculous, insane and hysterical adventures to the bigscreen for the first time. Dreaming up the most dangerous stunts in the world of action sports –whether they are trying to back flip a bike over a building 60 stories high or landing a death-defying jump while playing Angry Birds –Pastrana and his gang are always at it. High Risk. High Octane. And No Safety Nets Allowed.
Text the message "THRILLS," a space, and your zip code to 43549 for a chance to win a free admit-two pass to see NITRO CIRCUS THE MOVIE 3D.
(Example: Text "THRILLS 66061″ to 43549.)
Winners will be informed via text message on Monday August 6 and can use the message as their pass to get in.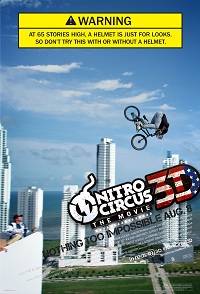 There is no charge to text 43KIX. Message and data rates from your wireless carrier may apply.