We have 50 passes to give away to an advance screening of the new Jamie Foxx-Gerard Butler thriller LAW ABIDING CITIZEN.
The screening is Thursday, Oct.15 at the AMC Barrywoods (8101 Roanridge Rd. Kansas City, MO) at 7:30pm, so some of you that have written in from the Missouri side should be happy!
The first 50 people to sign up are winners and should expect a pass in the mail.
In other words, if the form is there and you fill out, you've won!
LAW ABIDING CITIZEN is a thriller about a brilliant sociopath who orchestrates a series of high-profile murders that grip the city of Philadelphia – all from inside his jail cell – and the prosecutor assigned to his case who realizes he is the only one who can end the reign of terror.
Rated R for strong bloody brutal violence and torture, a scene of rape, and pervasive language.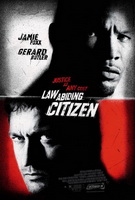 If you are one of the first 50 to sign up, you are a winner. Your name will be on a list at the theater door with two passes reserved. Please do not enter twice, we only have 50 passes.
As usual, please remember to get there early, as these advance screenings are often overbooked to ensure a full house.
cforms contact form by delicious:days