We have advance screening passes to see HARRY POTTER AND THE DEATHLY HALLOWS – PART 2 and we want you to have them!
The screening is Monday July 11 at the AMC Mainstreet at 6:30pm.
We have a trivia question for you as well so we can weed out the non-Potter fans and make sure these passes go to the ones who REALLY want them.
Just fill out the form below, answer the question correctly, and winners will be drawn at random on Friday, July 8.
Synopsis: "Harry Potter and the Deathly Hallows – Part 2," is the final adventure in the Harry Potter film series. The much-anticipated motion picture event is the second of two full-length parts. In the epic finale, the battle between the good and evil forces of the wizarding world escalates into an all-out war. The stakes have never been higher and no one is safe. But it is Harry Potter who may be called upon to make the ultimate sacrifice as he draws closer to the climactic showdown with Lord Voldemort.
It all ends here. "Harry Potter and the Deathly Hallows – Part 2" stars Daniel Radcliffe, Rupert Grint and Emma Watson, reprising their roles as Harry Potter, Ron Weasley and Hermione Granger. The film's ensemble cast also includes Helena Bonham Carter, Robbie Coltrane, Warwick Davis, Tom Felton, Ralph Fiennes, Michael Gambon, Ciarán Hinds, John Hurt, Jason Isaacs, Matthew Lewis, Gary Oldman, Alan Rickman, Maggie Smith, David Thewlis, Julie Walters and Bonnie Wright.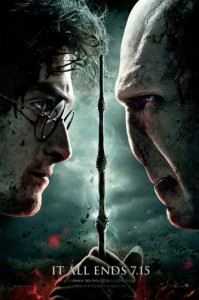 Remember to get there early, these screenings are often overbooked to ensure a full house.
Good luck!
cforms contact form by delicious:days