We are really excited to announce that we have 50 'admit-two' passes to give away for "District 9," a thrilling new sci-fi movie.
The screening is Thurs. Aug 13 at the AMC Olathe Studio 30 (119th & I-35) at 7:30pm.
Synopsis: Director Neill Blomkamp teams with producer Peter Jackson for this tale of extraterrestrial refugees stuck in contemporary South Africa. It's been 30 years since the aliens made first contact, but there was never any attack from the skies, nor any profound technological revelation capable of advancing our society. Instead, the aliens were treated as refugees. They were the last of their kind, and in order to accommodate them, the government of South Africa set up a makeshift home in District 9 as politicians and world leaders debated how to handle the situation.
We'll have a random drawing Monday morning Aug. 10 and the 50 winners will be mailed passes.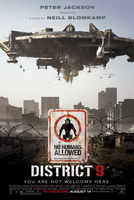 Remember to get there early, as these screenings are often overbooked. Your pass will have more info on this. Good luck!
cforms contact form by delicious:days