We have advance passes to the new movie KILL THE IRISHMAN starring Christopher Walken, Ray Stevenson, Vincent D'Onofrio, and Val Kilmer, which opens April 8 in Kansas City, and we want you to have them!
Our screening is on Wednesday, April 6 at the Glenwood at Red Bridge theater (Holmes and Red Bridge Rd.) at 7:30pm.
All you need to do is fill out the form below and winners will be randomly picked Monday, April 4. One lucky winner will be picked to receive an autographed movie poster signed by star Vincent D'Onofrio.
Synopsis: Over the summer of 1976, thirty-six bombs detonate in the heart of Cleveland while a turf war raged between Irish mobster Danny Greene (Ray Stevenson) and the Italian mafia.  Based on a true story, Kill the Irishman chronicles Greene's heroic rise from a tough Cleveland neighborhood to become an enforcer in the local mob.  Turning the tables on loan shark Shondor Birns (Christopher Walken) and allying himself with gangster John Nardi (Vincent D'Onofrio), Greene stops taking orders from the mafia and pursues his own power. Surviving countless assassination attempts from the mob and killing off anyone who went after him in retaliation, Danny Greene's infamous invincibility and notorious fearlessness eventually led to the collapse of mafia syndicates across the U.S. and also earned him the status of the man the mob couldn't kill.
Written and directed by Jonathan Hensleigh and also starring Val Kilmer, Paul Sorvino and Linda Cardellini, Kill the Irishman is inspired by Rick Porello's true crime account To Kill The Irishman: The War That Crippled The Mafia.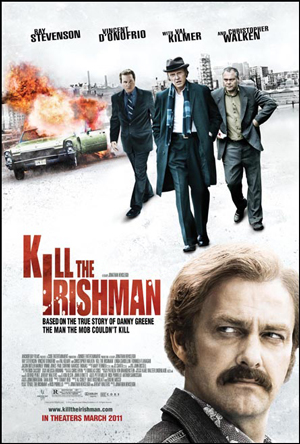 Remember to get there early, screenings are often overbooked to ensure a full house!
Good luck!
cforms contact form by delicious:days