To celebrate the release of "Harry Potter and the Half-Blood Prince" in theaters, Warner Bros. Pictures and Scene-Stealers.com offer you the chance to win tickets to an advance screening of the movie. We have 25 admit-two passes to give away for the advance screening of "Harry Potter and the Half-Blood Prince" on Monday, July 13 at the AMC Olathe Studio 30 (119th & I-35) at 6:00pm.
All you need to do is answer five trivia questions correctly (which should be easy for any serious Harry Potter fans), and we'll have a random drawing of the entrants with the correct answers on Friday, July 10 to determine the 25 lucky winners. The winners will get an email on that day with instructions on how they can print out their passes to the screening.
Special midnight shows Tuesday, July 14. Regular engagement starts Wednesday, July 15. Check out www.harrypotter.com for more details on the movie!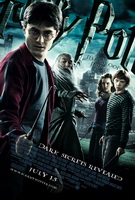 If you've won, you will receive an email on Friday, July 10 with instructions on how to print off your 'admit-two' pass online. Please bring it to the screening, and remember to get there early. These screenings are overbooked to ensure a full house.
cforms contact form by delicious:days